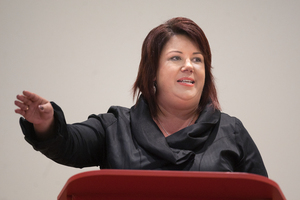 National cabinet minister Paula Bennett has declared her intention to stand for the new Upper Harbour electorate, effectively ruling out an electoral accommodation with Conservative Party leader Colin Craig leader in that seat.
Ms Bennett's decision, with the party's blessing, means that any deal with Mr Craig is more likely to occur in another electorate.
Other possibilities are in East Coast Bays where Foreign Minister Murray McCully could become a list-only candidate, Rodney where he unsuccessfully stood last election against Mark Mitchell, or Epsom which is held by Act leader John Banks.
Ms Bennett's current electorate of Waitakere disappears under draft boundary changes announced today by the Representation Commission to account for population changes.
She issued a statement this morning, after consulting the party leadership, saying she would be seeking the nomination in Upper Harbour, which takes in part of her current electorate.
"I have lived in Upper Harbour and have a real affinity for the area so it feels like a great fit."
Prime Minister John Key has strongly hinted that National will look to encourage its supporters to back the Conservatives, as it has done with Act in Epsom.
Several Conservative MPs could provide National with a new support party and lifeline in Government with its three current support parties - Act, United Future and the Maori Party - withering in support.
Winning an electorate seat would enable the Conservatives to enter Parliament even if they fall below the five per cent threshold.
The Conservatives polled 2.65 per cent last election and are polling at similar numbers now. But with a strong campaign, four per cent of the party vote could return the party five MPs if it won an electorate.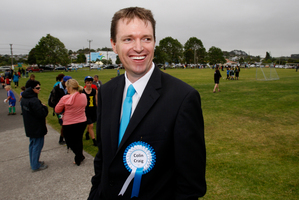 Mr Craig stood last election in nearby Rodney, which was won by National.
Before knowing of Ms Bennett's intentions, Mr Craig said this morning that the location of the new seat was "awfully good" for his party.
It is close to his home and a growing support base.
"We had really been hoping for a seat in the Upper Harbour or Glenfield area."
Mr Craig said the Upper Harbour area had a high proportion of elderly and immigrants, who tended to have values which aligned with his party.
___
Map: Find My Electorate
___
Two Conservative candidates were elected to the community board for the region in the local election last month.
Asked whether he would run for the seat in next year's election, he said: "We have to take it quite seriously. It's ten minutes down the road from where I live, I've worked a bit of time there... and we own property there. It's home territory."
However, he did say that a run by Ms Bennett in Upper Harbour could "complicate things."
Only one extra electorate seat will be created, although the boundaries of many others will be rejigged.
Auckland Central Boundaries have moved and will be safer for National's Nikki Kaye.
Labour's Jacinda Ardern says the boundary changes will make it tougher but she remains committed to standing in the seat which she now calls "marginal."
"I'm not going anywhere," she said in response to speculation she could run in what is likely to be the safe new seat of Kelston.
Waitakere disappears and Kelston electorate is formed by changes to the boundaries of several other electorates. Former Labour MP Carmel Sepuloni may seek selection there.
The total number of MPs in Parliament remains at 120 (although at present there is one-seat overhang of 121) but the ratios will be filled by 71 electorate seats and 49 list MPs, rather than 70 and 50.
The boundaries of Ohariu, the electorate of United Future leader Peter Dunne, have been changed and appear to make it safer for him.
In all, the boundaries of 43 seats are changed under the draft plan and 27 are unchanged.
The Representation Commission lists its main changes as follows:
North Island General Electorates
The Auckland region has increased from 23 to 24 general electorates. Key changes include:
• Upper Harbour has been created by drawing population from the neighbouring electorates of East Coast Bays and Helensville in the north and from Te Atatu in the south
• Kelston has been created by drawing population from the existing electorates of Waitakere, Te Atatu, Mt Albert and New Lynn
• The existing electorate of Waitakere has been replaced as a result of the proposed boundary changes to the Te Atatu and Helensville electorates and the new Kelston electorate
• Helensville has lost population to East Coast Bays and Upper Harbour and gained the western rural areas from Waitakere and New Lynn and also from Rodney
• Auckland Central has lost population to Mt Albert at Westmere and Grey Lynn
• Mt Roskill has gained population from Maungakiekie and Epsom in the east and lost population from New Windsor to New Lynn in the west
• In addition, Maungakiekie has gained population from Manukau East and Tamaki
• Hunua has lost population to Botany in the Flat Bush area and at the southern end to Waikato, and has had boundary adjustments with Papakura.
• Other key changes in the North Island include:
• Hamilton West has lost the western rural area to Taranaki-King Country and gained population from Hamilton East and Waikato at Horsham Downs
• Rotorua now includes Te Puke and the surrounding western area from Bay of Plenty, which in turn has gained an area around Waimapu from Tauranga
• East Coast now includes Kawerau and the coastal belt around Maketu from Rotorua
• Whanganui has been extended north to include Stratford from Taranaki-King Country and has lost coastal area west of Mt Taranaki to New Plymouth
• Ohariu has gained Wadestown from Wellington Central and lost Korokoro and Maungaraki to Hutt South and Normandale to Rimutaka.
• The Commission is proposing to retain the current boundaries for thirteen North Island electorates: Northland, Whangarei, Northcote, North Shore, Manurewa, Mangere, Pakuranga, Taupo, Tukituki, Wairarapa, Palmerston North, Mana and Rongotai.
South Island General Electorates
The number of general electorates in the South Island is fixed by the Electoral Act at 16.
The commission says major boundary changes in the Christchurch area were required because of significant population movement from Christchurch East, Christchurch Central and Port Hills electorates. At the same time Waimakariri, Wigram and Selwyn have increased beyond the permitted electoral population limit. Key changes include:
• Christchurch East has gained population at Shirley and Mairehau from Christchurch Central, and at Bromley from Port Hills
• Christchurch Central has gained population at Redwood from Waimakariri, and at Sydenham and Beckenham from Port Hills.
• Selwyn has lost Banks Peninsula and Halswell to Port Hills, and gained Hei Hei from Wigram.
• The Commission is proposing to retain the current boundaries for seven South Island electorates: Nelson, Kaikoura, West-Coast Tasman, Dunedin South, Clutha-Southland, Invercargill and Ilam.
Maori Electorates
There are no changes to the existing boundaries for the seven Maori electorates: Te Tai Tokerau, Tamaki Makaurau, Hauraki Waikato, Waiariki, Ikaroa-Rawhiti, Te Tai Hauauru and Te Tai Tonga.
Key dates
• November 21 - proposed boundaries announced
• Nov 21 - Dec 23 - Public submissions on draft boundaries
• January 14, 2014 - Summary of objections released
• January 14 - 29 Counter objections received
• February 7 - 19 Public hearings of objections and counter objections
• April 14 2014 - Final boundaries published