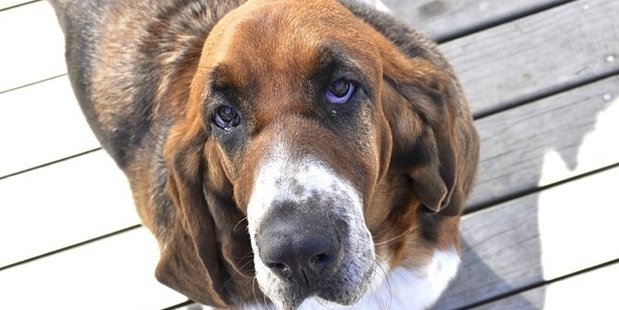 Wendy Sadgrove thought she had given her beloved pet to a "good home" but only weeks later her basset hound was listed for sale on Trade Me for $900.
The mother of three, from Waipapa near Kerikeri, reluctantly gave away the three and a half-year-old pedigree basset hound named Simi after a string of tragic events meant she could not keep the playful canine.
She is demanding the dog be returned as she never intended for money to be made out of her unfortunate circumstances.
Mrs Sadgrove said she was widowed last year when her husband died of cancer. Their other family dog, also a basset, died last month.
"Simi needed another dog for company but we couldn't afford to get one. So the only thing to do was give her away to a good home," said an upset Mrs Sadgrove.
She posted on a Facebook group called Northland Grapevine - Info Sharing Group, where people give away or sell items. She wanted a good home for Simi, ideally a loving family with another dog.
A family with one of their pet dogs went to Waipapa to collect Simi. They spent 45 minutes familiarising themselves with Simi. The new owner was made aware of the reasons why Simi needed to be rehomed.
"I wouldn't just hand a dog over. I wanted to see them interact and how the dogs got on together," Mrs Sadgrove said. "If I wasn't happy, I wouldn't have given her away."
On October 26, Mrs Sadgrove contacted the new family and all was well with Simi, who was running around the paddock, playing with other dogs and routinely taking an afternoon walk around the farm.
Yesterday, the breeder contacted Mrs Sadgrove and alerted her to an advertisement on Trade Me featuring Simi.
"I feel so sad and sick to the stomach," Mrs Sadgrove said.
The female basset hound was listed on Trade Me on Tuesday, with an asking price of $900 or near offer.
In the listing she is described as a "gorgeous purebred" and "from good breeding stock".
The seller has also said: "Needs a home with secure fencing, as bassets like to wander, and preferably other dogs for company as she is quite social and doesn't like to be left alone."
The new owner wished to remain anonymous following a tirade of abusive emails through the Trade Me site from people who supported Mrs Sadgrove.
The seller told the Advocate Simi had not worked out. She had chased their chickens and ponies, plus barked at neighbouring cattle and would not listen. "It just wasn't working out, so I thought the best thing was to put her on Trade Me."
She said it had never been her intention to make a profit out of selling Simi but it was a friend who advised her the dog was worth $900. She said as Mrs Sadgrove had given the dog away she did not think she would be interested in having it back.
Late yesterday she had taken down the listing and said she would consider contacting Mrs Sadgrove to talk about returning Simi.
Head of trust and safety for Trade Me, Jon Duffy, said the listing would not likely to be investigated as it complied with the site requirements.
For more articles from this region, go to Northern Advocate