Ngati Naho gather at battle site to remember ancestors who defied colonial rule in bloodiest fight of land wars.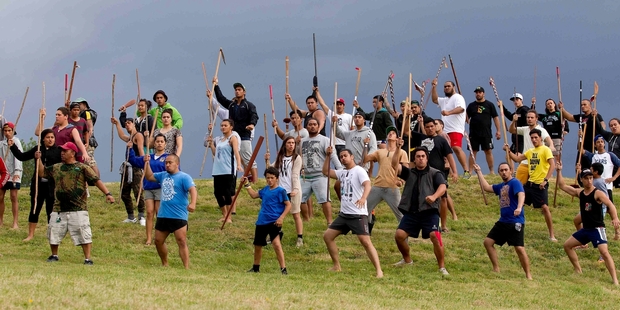 It's noted in history as one of the bloodiest battles of the New Zealand land wars that preceded the British invasion of the Waikato heartland.
But for the people of Ngati Naho and other iwi, today is a chance to remember the bravery of their ancestors who defied colonial rule at Rangiriri.
Hundreds are expected at the historic Rangiriri battle site today to commemorate 150 years since Lieutenant-General Duncan Cameron led his forces against the second Maori King Tawhiao.
The fighting lasted two days and there were 74 casualties - 38 colonial troops and 36 Maori were killed and dozens more were wounded, making it the bloodiest fight of the land wars.
A further 183 Maori were taken prisoner and several more drowned in Lake Waikare as they tried to flee the defensive line they had built along the ridge at Rangiriri.
Ngati Naho spokesman Brad Totorewa said the day was not only a chance to remember a significant milestone in New Zealand history but to commemorate his ancestors' bravery.
"It's a combined commemoration for all of those that were involved in the war but, in particular, from an iwi point of view what we want to commemorate is the bravery of our tupuna and other iwi and their stance."
Part of today's ceremony will involve a haka performed by at least 200 men, composed by Mr Totorewa.
"It's a collation of sayings of the [Maori] kings, and interactions between Governor Grey and King Potatau and King Tawhiao ... it's a combination of things that were said by our ancestors about things that were going on at the time."
New Zealand Defence Force and government representatives will also be on hand to witness the unveiling of two carved pou - of Te Oriori and Te Wharepu, who designed the fortifications.
"It wasn't a traditional fortification and that's how they took trench warfare overseas, it came from this incident at Rangiriri," said Mr Totorewa.
Hone Tarawhiti of Ngati Whawhakia said his ancestors who also fought at Rangiriri were conned after raising the white flag, which they believed was to discuss terms of peace.
"Once they got them into peace negotiations they switched the terms to surrender," he said.
Nga Pae o Maumahara chairman Tom Roa said the day was important to promote themes of reconciliation and transformation which he believed would resonate with all New Zealanders.
The defeat at Rangiriri preceded King Tawhiao's fleeing to the King Country and the confiscation of thousands of hectares of Maori land.
On this day in 1863
* British forces led by Lieutenant-General Duncan Cameron attack the Rangiriri defensive line built by Maori across the thin strip of land between the Waikato River and Lake Waikare.
* The main line, which ran for almost 1km from east to west, comprised a front trench with a high parapet of banked-up earth and another trench behind.
* The defences consisted of an entrenched parapet with ditches on both sides. Concealed rifle pits were protected by wooden stakes in the ground. It was manned by 500 defenders.
* The British failed in at least eight attempts to take the redoubt.
source: www.nzhistory.net