How will our biggest city look in 30 years' time?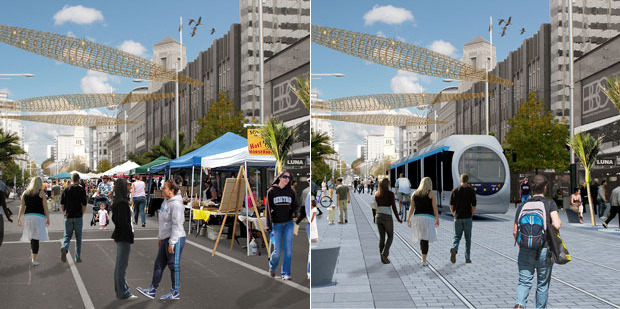 The Auckland City of the future is no Blade Runner fantasy, says Auckland Council's urban design guru Ludo Campbell-Reid. It's not all gleaming glass towers and sky-high elevators; technology and vertical living.
"That's an unimaginable city, it's an horrific city where people are part of the machinery," he says. "I like a bit of chaos. Chaos is more exciting. People like intimate spaces. People like to walk. People want to see the church at the end of the road they are walking along. They want to see the city around them. They want the city to be about them. That Blade Runner type of modern city scares me."
What is planned for Auckland over the next two to three decades is more Back to
the Future than Brave New World, he says. A place where pedestrians and public transport rule. Where alleys and open spaces take precedence over cars. An inter-linking set of walkways lined with shops and restaurants, joining old and new city parks, creating people spaces above our motorway junctions and evolving a Kiwi urban lifestyle where residents can see the beautiful buildings and distinctive surroundings that give Auckland its character.
Difficult to imagine? The beginnings of this Auckland City of the future is around us now. Take the shared pedestrian/car spaces of Fort Lane and Elliott St. The family-centred parks and promenades of Wynyard Quarter, the rebuilt Auckland Art Gallery, Britomart and Te Wero bridge with its steps enticing children to dangle their toes into the Waitemata Harbour. Auckland City has been undergoing a transformation over the past seven years. Expect to see more of the same over the coming decades.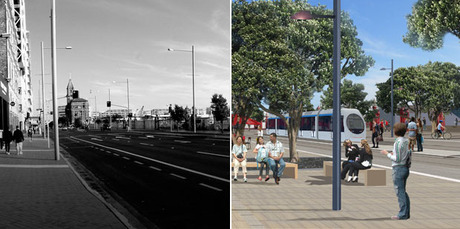 Professor Paul Spoonley of Massey University says for another million people to be added to the city in the next 30 years, growth would equal that of 2001-2006, when the population gained more than 30,000 new residents each year. That does not seem out of the question, but there are aspects to that growth that will increasingly mark Auckland out as very different to the rest of the country.
"More New Zealanders will be Aucklanders," says Spoonley. "Even modest growth will see Aucklanders grow to about 38 per cent of the country's population in little over a decade, which will be unusually high in the OECD."
Meanwhile, many other New Zealand regions may decline in numbers as their population ages. Says Spoonley: "Auckland will grow while most regions will not. The size of Auckland, plus the fact it has growing population numbers, makes it attractive for those firms that require a steady labour supply and skills. So regions will struggle to keep jobseekers, firms and families in competition with Auckland."
The second factor is diversity. In 2010, Auckland was one of the most immigrant-dependent cities in the OECD with about 40 per cent of its residents born overseas. "The result has been a two-nations effect," says Spoonley. "Auckland versus the rest."
It is the Asian communities which are changing the city. From single digit numbers in the 1990s, by 2021 they are expected to comprise up to 28 per cent of the region's people.
"The high numbers of immigrants in certain suburbs or in particular business areas has transformed parts of the city giving it a newfound cosmopolitanism," says Spoonley.
"Auckland really has become a reflection of its location, an Asia-Pacific city."
That ethnic diversity is not without its challenges, however. Immigrants find it difficult to get jobs appropriate to their education and experience and Spoonley questions whether New Zealand is making the most of their trade links to their home-lands.
"When will Asians be represented in local government in proportion to their
population?" he asks. Immigrant communities are often more enthusiastic about inner-city urban living but Campbell-Reid says the new style of intensive housing planned for Auckland should convert many more of us to its charms.
There are plans to transform the inner-city roads already housing whole communities into narrower traffic lanes with green spaces for children, such as Hobson St which is already home to 10,000 people. He would like to see a new downtown school, Quay St to become a tree-lined boulevard on the waterfront, with room for some cars and light rail heading up Queen St.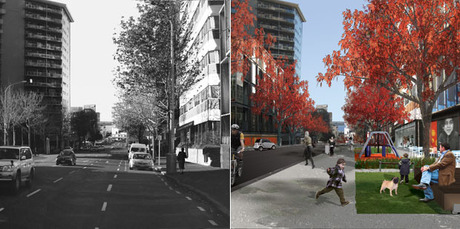 He points to the Vinegar Lane project, currently underway in Ponsonby, as a game-changer for urban living. Built with a supermarket below, surrounded by individually-designed terraced homes and apartments with rooftop gardens, courtyards and offices, it is a village of its own all in the same block.
"In many cities now the space above the 'big box' stores and supermarkets are filled with apartments. Those big retail stores need people in them, and we need space."
The money for the redevelopment of the inner city is coming, he estimates, on a 4:1 private, public funding mix. Auckland Council has $750 million to $1 billion earmarked for improving the city centre over the next decade.
There will be big changes too, he says, in suburban Auckland as the new higher density rules allow for more townhouses and apartments in the currently struggling town centres.
"The people who will be primarily building Auckland in the next 15-20 years will be the mums and dads," says Campbell- Reid. "There are a very few big companies building hundreds of homes but there are thousands of individuals building the majority of Auckland. It's the back of the garden being subdivided, two units added on. Eighty per cent of Auckland is built by non architects."
Resource consent can play a part in how that design is managed, he says, but a desire for, and acceptance of, better design standards is also needed.
"Scene 1, 2, and 3 would never happen on my watch," he says of the towering tiny apartments which block much of the city from the waterfront.
His big prediction for the next 30 years?
Once the City Rail Link is up and running, a high-speed train linking Wellington to Britomart in a 2.5 hour trip, with Hamilton and Tauranga just an hour away also.
"That's when a city has two to three million people potential," he says. "We live in such a beautiful place, so many people want to come here, we're going to have to intensify to accommodate them all."