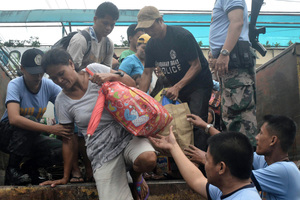 New Zealand will give another $2 million to support humanitarian relief efforts in the Philippines following Typhoon Haiyan, Foreign Affairs Minister Murray McCully announced this afternoon.
The money is in addition to the $150,000 already pledged.
"Typhoon Haiyan has caused significant damage and affected more than 4.4 million people across 36 provinces in the Philippines,'' Mr McCully said.
"New Zealand will provide $750,000 in dollar for dollar funding to New Zealand non-government organisations that are working with partners on the ground to support the relief and initial recovery effort. We will also set aside a further $1.25 million in funding to be allocated over the coming days as the priority areas for support are identified.''
The $150,000 that New Zealand had already committed would go to the International Federation for Red Cross to support the immediate distribution of relief supplies and conduct needs assessment.
In addition, an official from the New Zealand Aid Programme would be joining the specialist United Nations Disaster Assessment Co-ordination team.
- APNZ