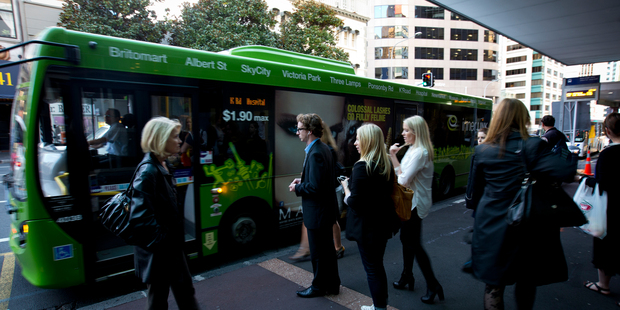 Many Auckland bus passengers face a lucky dip today over which type of electronic Hop card will get them to work or classes.
NZ Bus was over the weekend changing 140 of its 294-strong Metrolink fleet from its purple Snapper Hop card to Auckland Transport's dark blue version, ready for this morning's rush hour.
That follows a changeover last month on 162 North Star buses operating from its Glenfield depot.
Auckland Transport is guarded over just which cards will operate on which bus routes from today, saying passengers should be armed with both versions, or carry cash.
That follows cases of passengers with old cards left stranded on some central Auckland routes by buses sent from North Shore with machines converted to read only the new AT Hop version.
But the Herald has received a list - described by a source as "unofficial but correct" - of central routes to be served by buses due to have been converted to AT Hop over the weekend.
They include routes from Point Chevalier, St Lukes to Onehunga, Westmere, and Glendowie-St Heliers-Newmarket.
Others listed for conversion on November 24 "or later" include Mt Eden Rd, Dominion Rd, Waikowhai and Sandringham Rd.
A third category, to be served by a mix of buses scheduled for conversion either over the weekend just gone or from November 24, include Onehunga, Mangere, Te Papapa, Mt Wellington-Otahuhu, Victoria Ave-Benson Rd-Portland Rd in Remuera, and Glen Innes-Sylvia Park-Panmure.
Auckland Transport spokeswoman Sharon Hunter recommends passengers obtain the new AT Hop card while retaining the Snapper version until the entire 650-strong NZ Bus fleet is switched over by the end of the year.
Birkenhead Transport and Urban Express buses switched to AT Hop several months ago, but other firms including Northern Express operator Ritchies will not follow until early 2014.
Ms Hunter said holders of Snapper Hop cards could apply for a free AT Hop, which otherwise cost $5.
Auckland Transport says NZ Bus passengers should store credit on both Hop cards for now, promising they can transfer any remaining balance of $10 or more from the Snapper to AT versions at the end of the roll-out period.
"Our apologies for the brief inconvenience as we go through this update," Ms Hunter said.
"Only a few more weeks to go with this two-card situation, then we will be one."
She also recommended that all passengers register their cards online, to ensure they can be replaced if lost or be unblocked without loss of credit if "blacklisted" for repeated failures to log off at the end of journeys.
Ferry and bus passenger Nikki McCardle is upset Auckland Transport has refused to refund $38 on a card she says was blocked after she missed tagging off twice, and accuses the council body of theft.
Auckland Transport claims she failed to tag off four times and says it cannot unblock or refund money on unregistered cards.
Ms Hunter said that although 129,000 AT Hop cards were in circulation, only 67,000 were registered.
She could not say how many other passengers were in a similar position to Ms McCardle, as a staff member dealing with such issues was away.
* To order an AT Hop card visit ATHop.co.nz or phone Auckland 3664467