Reporter David Fisher and photographer Mark Mitchell travelled from Cape Reinga to Bluff in a Kea campervan meeting amazing Kiwis along the way. Today, a couple tell of their second chance at love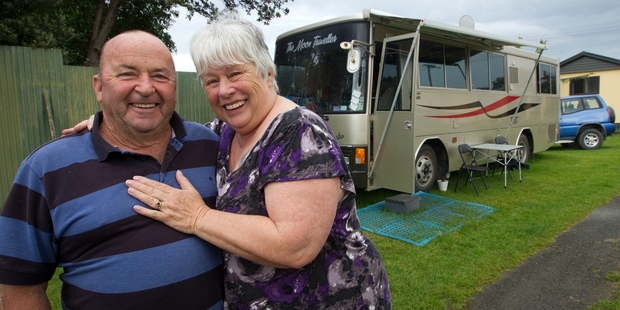 "Do you know why we're called the Moon Travellers?" asks Jude Mackie, handing over a business card which proclaims, "Moon Travellers".
She looks so pleased with herself, you know she's going to tell you anyway.
And she does. Husband Lynn beams away in the background, perched up across from her in their housebus, parked at Baylys Beach on the west coast north of Dargaville.
It's a long way from Southland, where this story began, and from where Jude's accent still rolls its way up the island. She picks up the story.
"We're the Moon Travellers because by the time we've finished travelling, we will have covered enough miles to get to the moon and back," she says.
And do you know why that is, she asks, eyes-a-twinkle and not waiting for an answer. "Because that's how much he loves me - all the way to the moon and back."
There's some small borrowing from children's literature there but they've known each other almost long enough to stretch back to childhood.
He's 68 and she's 66, but once they were 17 and 15. That's when they had their first chance at love. He's from Kaitangata, south of Dunedin. She's from Tuatapere, west of Invercargill. Travel, in those days and places, was for important reasons - like weekend provincial rugby.
"That's how we met," he recalls. He worked with Jude's brother, who alerted her to his interest. "I've seen that little bastard up the road," he told her. "He was asking after you."
She suspects it was fancy footwork by family that deflected the most angst-ridden and urgent aspects of a teen love affair. There was deflection, too, which meant he moved but she thought he had already gone, so they never really said goodbye properly.
After that, life got in the way. And with it came the good - they have nine children with other partners - and the bad. For Jude, there were some men who confused love and anger when they were a few drinks into the night. It wasn't easy, some of it.
Then Lynn and Jude met up 14 years ago. That was great, then Jude went and met someone else. Life went on.
But Jude was on the Old School Friends website one evening and sent Lynn a note: "I'm a blast from the past."
They started corresponding every six months or so, sometimes more often.
He came back from Australia and took up a job working as a groundsman at a resort. And still he would think of Jude.
One night, Lynn chanced his virtual arm. "You husband will go crook with you being on the computer at this time of night," he wrote, waiting to see what she might say.
"What husband?" she replied.
Well then.
"I think we've been here before," he wrote. "Can I come down and see you?"
They saw each other for three months, but her mind was decided. "I had no hesitation in marrying him this time.
"My daughter went crook," says Jude, who was told very sternly: "You don't know him, Mum."
"I said I do know him. I've known him since I was 15."
Lynn says, "Two years ago, we got married."
"This is our honeymoon," Jude says.
They bought the housebus. Since then, home just keeps getting further away. "We've been around the South Island three times," says Jude. She bounces when she speaks, a bit excited. "In February, we came to the North Island."
They went around East Cape, then right up north to Spirits Bay. Lynn, who worked in roading, got his photograph taken at the Double-Nought, where the highway begins.
"We've found a lot of North Islanders very friendly. The rumours are lies, really."
Rumours? Well, Jude has lived life almost entirely south of Christchurch. She does know that one cousin who lives in Auckland claims not to know his neighbours.
"I reckon that's only because they don't talk to them," she says.
Still, the further you get from home, the more the difference becomes clear. "South Islanders will talk to anybody. As we've got up this high, it's a bit hard to get people to say hello. You've got to talk first or they won't talk to you at all."
Lynn's been broadening Jude's horizons. He worked in Australia for 12 years and showed her around for a couple of months last year. Jude quite liked that, and now they're working out how to get the housebus across the Tasman.
They talk, sometimes, about what would have happened if they'd got together earlier. "We haven't got time, really," says Lynn.
Talk is too expensive when so many friends and family are "dropping off the porch".
There is today, tomorrow, the road and each other.
"We're giving it assholes while we can."