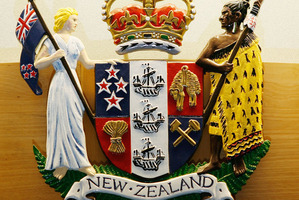 A Tauranga man who dumped the body of his dead friend outside a hospital, after kidnapping and bashing a man whose vehicle had accidentally struck her, has been sentenced to three years and four months' prison.
Thomas McDonald pleaded guilty to charges of kidnapping, injuring with intent to injure, aggravated robbery and two counts of unlawfully getting into a motor vehicle when he appeared in Tauranga District Court yesterday.
Judge Thomas Ingram described the kidnapping as "terrifying" for the 32-year-old victim, Neville Brown, whose car had fatally struck McDonald's 18-year-old friend, Jovaan Graham just moments before.
However, Judge Ingram took a number of factors into account when sentencing McDonald, crediting him for an early guilty plea and "obvious remorse", reducing his sentence.
McDonald was arrested along with co-accused Cheyanne McCausland, 23, after the pair were found asleep on a trampoline in the backyard of a South Auckland property on April 3.
Yesterday the court heard that McDonald and allegedly, McCausland had stolen a car from the Tauranga Hospital before picking up Ms Graham and driving to Rotorua to visit family.
Afterwards, the group travelled back to Tauranga over the Kaimais where the stolen car broke down near Belk Rd.
The trio got out of the car and soon after Jovaan stepped out onto SH29 and was killed when a passing Toyota Prado hit her.
When the vehicle's driver, Neville Brown pulled over to see what had happened, an intoxicated McDonald attacked him and forced him into his own car," defence lawyer Glenn Dixon said.
"My client was grief stricken after the death of his friend and heavily intoxicated," Mr Dixon said.
"He punched Mr Brown nine or 10 times in the head before forcing him into his own car and driving off with Cheyanne in the passenger seat.
"He (McDonald) pulled over near Poripori Road soon after and Mr Brown and his dog took the opportunity to escape and hide in nearby bush.
"Mr McDonald then drove back to the crash scene and bundled his dead friend's body into the stolen car and drove to Matamata, where he remembered there was a hospital," Mr Dixon said.
"He knows she is dead at this stage but he drives to the Pohlen Hospital, where he dumps the body of his friend then drives aimlessly north towards Auckland."
The court heard McDonald and McCausland stopped at a petrol station on the way to Auckland.
McDonald, his hands covered in blood from handling his dead friend's body, burst into tears when speaking to security guards who did not understand what he was telling them, Mr Dixon said.
The owner of a house in South Auckland contacted the police later that morning when they found the pair asleep on their trampoline.
Mr Brown suffered concussion from the attack, along with bruising and facial injuries and spent six hours in hospital after the kidnapping, Judge Ingram said when handing down the sentence.
He said could not imagine Mr Brown's "terror" when he was forced into his own vehicle in the dark on the Kaimais, just moments after his car fatally struck and killed Ms Graham.
"You are a man with a long history of criminal offending," he told McDonald.
"Eleven or so pages over as many years and many of the prior convictions relate to straight out violent offending, while a number of others are in respect of vehicle theft.
"In this case I can imagine you were in shock after the death of your friend but this case of kidnapping is about as frightening as one could imagine and I must take the victim into account when sentencing."
McDonald's co-accused Cheyanne McCausland has pleaded not guilty to the charges and is remanded in custody until November 19.
For more articles from this region, go to Bay of Plenty Times