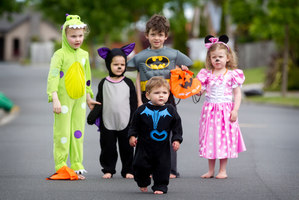 If you go out trick or treating tonight, take extra care not to trip on your costume or choke on a lolly.
According to ACC figures, 31 people have been injured at Halloween in the past five years.
Three of those have ended up with dental injuries and seven have been stung or suffered puncture wounds. Nineteen suffered soft-tissue damage and three fractures or dislocations
And Guy Fawkes is even more dangerous - 840 people claimed injuries, at a cost of almost $300,000 between 2008 and 2012.
In the figures released to the Herald, Halloween-related injuries cost the taxpayer almost $5500.
Claimants listed their accident description as "trick or treat", "ghost, witch, vampire, ghoul, wizard" and "zombie".
Claims for injuries caused by fireworks at Guy Fawkes totalled more than $290,000 and involved burns, lacerations, punctures, stings, soft-tissue injuries, fractures and dislocations, and foreign bodies in the eye or orifice.
Accident descriptions were listed as "sparkler, Catherine wheel, sky rocket, Tom thumb, jumping Jack", and "double happy".
In 2007, a law change limiting fireworks sales to the four days before Guy Fawkes Day and raising the legal purchasing age to 18 reportedly resulted in a 40 per cent drop in fireworks-related injury claims.
Fire Service senior fire risk management officer Kevin Holmes stressed that fireworks should not be handled by children; only adults should set them off.
"Children should be kept at a safe distance from where fireworks are being lit from and should also be supervised if using sparklers."
Senior Sergeant Neil Faulkner, Hamilton area protection co-ordinator, said it was up to parents to make sure their trick-or-treating children were safe.
He said most of the complaints police encountered were when "tricks" went wrong. "It's okay if you don't get a treat. That's someone's right, even though it's mean. Any tricks need to be not stupid and in good humour."
Dracula, Grim Reaper and Len Brown in demand
A Len Brown costume is among those in demand for Halloween this year.
Staff at one of Auckland's largest and longest-running costume-for-hire shops, Desiree, said its three costumes depicting the embattled mayor had all been hired. Other popular picks include Dracula, the Grim Reaper, the undead and dark angels.
At Tops'N' Tails in Hamilton, owner/operator Kerrin Steffert said vampires still topped the list of favourite Halloween fancy dress after countless movies and television programmes romanticising the creatures.
She said SpongeBob SquarePants, pumpkins and Narnia princesses were proving most popular among children.
In the United States, singer Miley Cyrus' "twerking" leotard is reportedly the fifth most-searched-for costume on Google Shopping.
Track and treat
A new iPhone app allows parents to track their children and receive alerts when they venture outside designated safe areas. The free app Track n Treat works when children send a time-limited link of their location via a phone number or e-mail. Parents can track their location via a web browser for four hours.
Top 5 safety tips for Halloween: Celebrating All Hallows' Eve
1) Accompany young children
2) Go in groups
3) Stay in well-known, well-lit areas
4) Stay away from main roads
5) Don't do "tricks" that will result in a complaint to the police