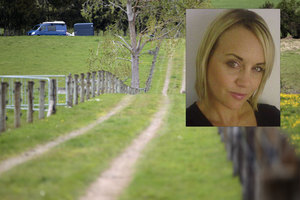 A man currently serving time in prison for kidnapping a Hamilton woman has told a High Court trial he had no idea she was destined to be killed.
Rae Colleen Portman, 33, was four months pregnant when she went missing in June last year. Her body was found dumped in a pit and covered in rubbish bags on an Ardmore farm, near Auckland, three months later.
Key Crown witness Lee Rigby this afternoon began giving his evidence to the High Court at Auckland.
Paraire Te Awa, known as 'Friday', and Dean Michael Addison have both pleaded not guilty to charges related to her death.
Te Awa has been charged with the murder and kidnap of Ms Portman, while Addison faces a charge of kidnap and two drugs offences.
Rigby recounted the final hours of Ms Portman's life to the court, as he described driving with her bound in a sheet and duct tape in the boot of a black Mazda Astina while he followed Te Awa "into the middle of nowhere".
Rigby said he thought they were heading to the Hauraki Plains, however no final destination was discussed.
He said he was "absolutely" scared of Te Awa and took part in the kidnapping out of fear for his own life. "I've seen what he could do to other people."
Rigby said he thought Ms Portman was going to be left in the "middle of nowhere".
"I thought that's what the plan was. I thought she would dust herself off and carry on."
Instead, they drove into the night and after stopping at the home of a friend of Te Awa's to pick up an old, rusty, long-handled axe, they continued to an isolated industrial location, Rigby said.
Te Awa would check on Ms Portman whenever they stopped and would keep repeating the same line, "it's all going to be over soon", Rigby said.
When they finally stopped, Rigby said his nerves were going "through the roof".
"I was freaking out, to put it lightly."
Te Awa then removed some motorbike strops from the car, threaded a car's door handle through them and tied them into a knot, Rigby said.
Te Awa placed the loop around Portman's neck and began to tighten it , he told the court.
Rigby said Te Awa continued to twist the door handle attached to the strop, tightening the loop and ignoring Ms Portman's pleas for him to stop.
The next time he looked, Te Awa was removing the strop from Portman's neck, Rigby said.
"I don't know what a dead body looks like ... but she was quite lifeless."
After taking off the strop, Te Awa also removed the sheet Portman was wrapped in, checked her pulse and then sighed, Rigby said.
They then returned to the property where they picked up the axe and pushed the black Mazda, with Portman's body in it, into a corner of the property and covered it with a trampoline, he said.
Rigby said Te Awa later told him he had taken care of the body and the car and that "no one would ever find her".
Te Awa threatened to kill him if he told anyone what had happened, Rigby said.
Earlier today, Rigby admitted to having a "very short-lived affair"with Ms Portman, who had a boyfriend in Hamilton, but after that he only met her at the Addisons' house.
Rigby - who is serving time in prison for his role in Ms Portman's kidnap - described her as someone who "freely talked" about her involvement in the drugs world, in which she would transfer and distribute pseudoephedrine, the substance used to make methamphetamine.
He alleges Addison was one of the many people Ms Portman distributed pseudoephedrine to. However, he said the relationship had quickly changed as Ms Portman became more ambitious.
"There was a time when Dean had supplied Rae. This was before she had her dealing with the top end people. Then the tables turned, and Rae was supplying Dean," he told the court.
Rigby said he wasn't involved in Ms Portman's operation because she considered herself to be working on a more sophisticated level.
"I think she liked to think she was bigger than what I could have dealt with. I wasn't big enough for her," he said.
"She was trying to work her way up to the top."
He also described how Addison and his clients would speak in code when contacting clients via text message, using car parts as a cover. Addison owned a car workshop which was situated under his Papakura home.
"Some of it [discussions about drugs] was open and some of it was in code. For example, text messages may have been coded in car parts," Rigby said.
Earlier Ms Portman's boyfriend Hayden Sharpe said he was unaware of her using such codes for drugs. Asked about a text message in which she referred to a "wheel"being good, he said: "I've never heard wheel as a code word for anything before."
Rigby gave evidence to say he saw a large amount of contacNT in a ziplock bag sitting inside a motorcycle wheel in Addison's workshop in the weeks before Ms Portman's kidnap and murder.
The trial continues tomorrow.
- APNZ