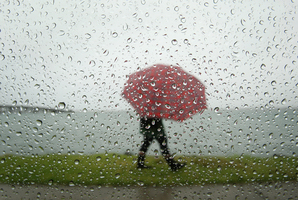 Windy wet weather hampering the South Island is expected to clear for the final day of the long weekend.
Met Service said the dreary conditions, which brought heavy rain to several areas and caused power outages in Christchurch yesterday, would improve slowly through today.
Tomorrow would bring more settled weather, Met Service meteorologist Ian Gall said.
Gale force winds, which reached 85 km/h in parts of Christchurch [Port hills, New Brighton] yesterday, brought down powerlines and trees around the wider region.
A spokesman from Lines company Orion said yesterday about 1200 homes, mainly in the rural area west of Christchurch, had lost power during the day.
While most were back online before night-fall, about 10 to 15 were likely to have had no electricity overnight, he said.
Fire Service southern communications shift manager Karl Patterson said downed powerlines had sparked a significant fire near Wakanui Beach, Ashburton.
About two to three hectares of planation had become involved in the fire, which was extinguished late afternoon.
Several smaller scrub fires had also occurred in the McLeans Island area near the airport.
Travellers around Christchurch, and further north in the Waipara district, had also experienced delays caused by fallen trees on the road.
Winds around the Capital also picked up yesterday afternoon, prompting Met Service to issue a severe wind warning for Wellington and Wairarapa.
But despite the bleak start to the long weekend, Met Service said most New Zealanders could look forward to better weather tomorrow.
In the South Island, blustery winds hampering the east coast were expected to ease making way for clear skies.
On the west coast, conditions were mainly fine with some rainfall forecasted during the day.
In the North Island, a few showers were likely to take place in the morning, with the rest of the day expected to be fine, Met Service said.
- APNZ