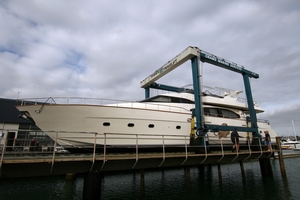 Westhaven-based Orams Marine Services has added a sophisticated 75-tonne mobile Travelift to their haulout and maintenance facility in Beaumont St.
Orams' managing director Craig Park says the new Travelift will satisfy the increasing demand for lift capacity for "mid-range" vessels.
"The new generation Travelift features a two-block lift system," he says. "This has been designed so that 100 per cent of the available travel height can be used, allowing the operator to hoist up until the very top without any chance of damage. A 'sling adjust' feature also provides easy sling movement forward or aft on the vessel hull."
Park says the new Travelift has load cells for more accurate weight indication and improved hydraulics, with a hydrostatic drive for faster lifting and lowering of vessels.
"As an additional safety factor, the independent synchronised hoists evenly spread and balance the load. With many yachts it will not be necessary to remove the forestay before lifting."
Park says he expects the new Travelift to cater for local vessels and visiting international cruising craft that need service or maintenance during their stay in New Zealand.