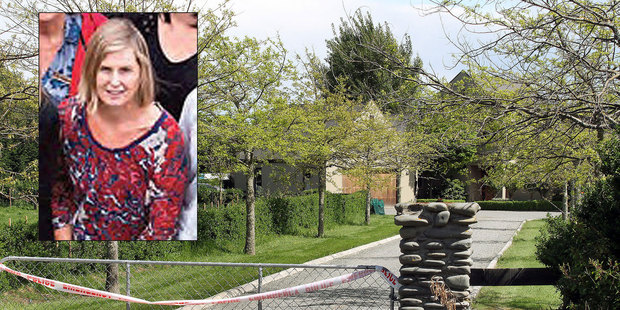 A Canterbury school mourning the loss of a "devoted and passionate" teacher who was accidentally run over and killed by her husband last night.
Jon Winskill is "devastated", family say, after reversing over his wife Denise Robinson-Winskill in a 4WD farm ute about 8pm.
The accident happened on their sprawling Ellesmere Rd lifestyle block near Lincoln on the southern outskirts of Christchurch.
Mrs Robinson-Winskill, a respected 58-year-old English teacher and former dean at Cashmere High School, was pronounced dead at the scene.
Her city school posted a notice on its website this morning, offering help for staff and students, some of whom were in tears at the devastating news.
It paid tribute to a "devoted and passionate teacher and much loved member of our Cashmere school community".
"This sudden loss of our colleague and teacher will be difficult for many in our school," it said.
"Consideration of each other over the next days will be important as people deal with this tragic loss. Our love, thoughts and prayers are with Denise's family and friends during this difficult time."
Principal Mark Wilson was not returning calls today.
Police say the incident happened in a utility area within the property, which has sheep and cows grazing on it.
It was being treated as an accidental death, said Detective Sergeant Richard Quested.
"Police are undertaking a scene examination to confirm the circumstances of the accident," he said.
Mr Winskill's aunt, Lorna Winskill, was stunned by news of the tragedy.
"Jon will be devastated. It's awful."
Another person close to the family said: "Words can't describe how devastated Jon is. I mean, what can you say?"
The matter has been referred to the coroner.
Neighbour Andre Davies said the couple had lived there for about a year.
She described Mrs Robinson-Winskill as a "lovely, beautiful woman".
Her husband owned South Island Vegetation Control, a contract weed spraying and tree work business, and the couple had grown-up children, Mrs Davies said.
"We heard sirens but didn't put two and two together. It's very sad."
Her husband Justin Davies said the couple "did everything together".
"It's just the worst thing anyone could ever imagine. I don't know how Jon's going to be."
Police were still at the scene today. Two tents had been erected, with one covering a 4WD farm ute vehicle.
Bruce and Kay Rivers lived by the couple at nearby Tai Tapu for about five years.
Her death camed as a "terrible shock" to Mrs Rivers.
"We lived out in the country, so we used to wave out to each other, she'd pop in for a cup of tea.
"She was a good neighbour, a lovely lady.. a very clever lady.
"It's a terrible shock, a terrible thing to have happened."
- APNZ