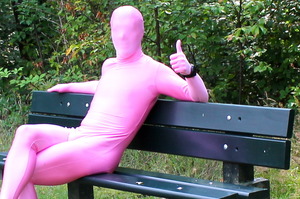 Ex-pat Kiwi Ollie Hicks, who is running the length of Holland for breast cancer charity Pink Ribbon, has taken the first strides of his 420km journey.
Clad in his pink lycra suit, Mr Hicks or "Morphman" completed the first leg of his 10-day journey with a 36.1km run from the North Sea to Groningen.
"It was great to start the journey today meeting many Dutch locals throughout the province of Groningen. It has given me the motivation to really kick on and reach my goal," the 30-year-old said.
"We broke the 3000 euro (NZ$4860) fundraising mark before we set off from the edge of the North Sea, which was an amazing way to start things off.
"Lollies and Dutch snacks kept me going and I had a friend and sponsor running with me, whilst my girlfriend was knitting and sitting in my pink support car taking care of the navigation."
Before the challenge, Mr Hicks competed in a raft of preparation events, including the Brussels marathon and Eindhoven half marathon.
During the weekend, he was also joined by a team of ex-pat Kiwis, French and Dutch supporters who donned their own pink morphsuits for the Amsterdam half marathon.
"We had a great response from the Amsterdam crowd - a mixture of cheers, wolf whistles, high fives and lots of laughs," he said.
"It was great to have the support of so many friends backing the drive towards our fundraising goal of 5000 euro [or] NZ$8250 for Pink Ribbon."
Breast cancer survivor Jen Edwards, 28, is one of Mr Hicks' biggest supporters. The ex-pat Kiwi is the partner of Hicks' childhood friend Brendan Garty. The couple's struggle with breast cancer inspired Mr Hicks to take on the "Morphman challenge".
"It's hard work physically and mentally but it's also a lot of fun and very rewarding. Holland is my adopted home and the people are very warm and welcoming wherever Morphman goes," Mr Hicks said.
"It's great to also have the support of people back home in New Zealand."
*****************
Those wishing to make a donation of any kind (cash, time, resources or words of encouragement) should visit the MORPHMAN website www.morphman.nl
- APNZ