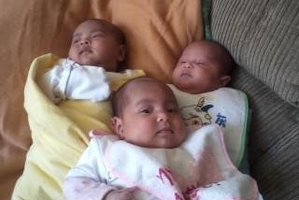 The father of a two-month-old triplet who died in January last year has admitted her murder.
Thomas Tamatea Ariki-Nui McGregor, 31, appeared in the High Court at Wanganui yesterday facing seven charges, including the murder of his daughter, Hinekawa Topia.
Police launched a homicide investigation into Hinekawa's death after she was taken to Wanganui Hospital just before 1pm on January 12, 2012, and attempts to resuscitate her were unsuccessful. A post-mortem examination found she had suffered a deliberate head injury.
McGregor yesterday pleaded guilty to murder in a telephone conference with Justice Ronald Young, who was in Wellington for the hearing.
He also admitted wounding another of the triplets between December 21, 2011, and January 12, 2012. After Hinekawa died the other two triplets were placed in the care of Child Youth and Family.
Crown prosecutor Lance Rowe said no evidence would be presented for the remaining charges.
McGregor was given interim name suppression at his first court appearance on July 17, 2012, however Justice Young yesterday ordered it lifted.
The hearing was meant to take place using an audio-visual link however technical difficulties meant that a telephone had to be used.
After McGregor made his first court appearance last year, the officer in charge of the case, Detective Senior Sergeant Neil Forlong said up to 20 staff worked on the case and medical information that recently came to hand resulted in the arrest.
Hinekawa's death resulted in numerous editorials in various media and made Paula Bennett, Minister for Social Development, visit Wanganui after originally having declined an invitation to a community meeting in the city regarding her Green Paper for Vulnerable Children.
Former All Black Norm Hewitt, who fronted a campaign against child abuse, said at the time Hinekawa's death was "like the shock of a 7.8 earthquake".
McGregor had initially pleaded not guilty and was to face a jury trial next month, set down for four weeks.
He was remanded on electronic bail until October 29 when he is to present himself at the Wanganui police station to be held in custody until sentencing on December 18.
Justice Young also ordered a pre-sentence report to be completed before then and ordered an agreed summary of facts be filed for media.
For more articles from this region, go to Wanganui Chronicle