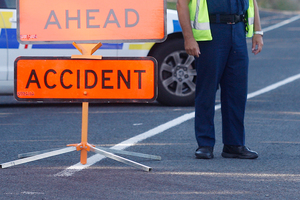 A man found his fatally injured partner in an upturned vehicle in a creek, along with her two injured children, after they failed to come home yesterday afternoon, police say.
The woman and her children, aged 18 months and 6, had been reported overdue by her partner about 7.10pm after they had failed to arrive home from Hamilton where they had last been seen about 3pm.
Waikato Road Policing Manager Inspector Marcus Lynam said the father and friends went searching for his family when their failed to return and heard the 6-year-old.
They found the SUV overturned down a bank in a waist-deep creek on Waingaro Rd.
The children were rescued from the vehicle and one of the searchers went to a nearby hotel to raise the alarm.
Mr Lynam said the injured woman died at the scene and the children were flown to Waikato Hospital with moderate to serious injuries.
Fire Service Assistant Waikato Commander Rob Karaitiana said the car had left the road and crashed down a steep bank into some blackberry bushes.
He said they weren't far from home.
"It's a terrible tragedy."
Mr Lynam said the cause of the crash was not yet known.
"While the crash investigation is still in its formative stages, police would like to extend their sympathies to the family for their tragic loss," he said.
A local man who knows the family, who did not want to be identified, said they had been returning home after doing some shopping.
He said weather had been bad in the area recently and may have been a factor in the crash.
"We all know the roads around here really well so I don't know what else could have happened."
He had spoken to the father who was "completely distraught, as you would be".
"They're just a lovely family. It's so tragic."
The wreckage of the Nissan Terrano was this morning removed from the muddy stream.
It appeared the woman veered off a gentle righthand corner.
The vehicle plunged down a bank and hit a tree before it ended up with its nose in the stream.
A man, who asked not to be named but arrived at the scene to find the father who had by that stage rescued his children from the vehicle, said the rear end of the car was stuck in the tree while its front end was planted in the muddy-bottomed stream.
"It was just stuck nose first with its rear end hanging in the tree,'' he said.
The man told the Herald the woman and her children were expected home at 3pm. He said it was likely the woman and her children were stuck in the car for at least five and a half hours.
He said the people were locals and the family and community would be devastated.
Do you have more information? Email us here.
- APNZ