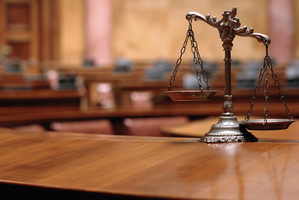 A Rotorua motelier has admitted indecently assaulting a female guest in her room.
Hyeon (Paul) Soo Song, 53, pleaded guilty in the Rotorua District Court last week to indecently assaulting a woman in her 20s on August 4.
According to the police summary of facts, the woman was visiting from another North Island town for a social function. On August 3, she checked into the Studio Motel on Fenton St, where Song was the manager.
As Song led her to her room, he held out his hand then held her hand all the way to the room.
Inside the room, after telling the woman about the milk and TV remote, he told her she had bad posture and began massaging her shoulders. She moved away and he left.
Shortly after, Song knocked on the door and asked what time she was going out and when she would be back. She said she didn't know and shut the door.
As she checked out the next morning, Song walked around the counter, grabbed her hands and again started massaging her shoulders. She broke away and walked towards her car, however he followed, gesturing for her to follow him back to her room.
Thinking he needed to check the room before she left, she followed. Inside he massaged her shoulders for a few seconds before she broke away.
He stood in front of her and said "you're very soft" gesturing around her breasts.
He asked "can I touch them?" to which she replied "ah no!".
Song put his hand down the front of her top and touched her breast with his hands and mouth.
She pushed him off and asked him what he was doing. Song then went behind her, placed his hands on her shoulders, counted to 10 and walked out.
The woman was "extremely shaken" and for a few days felt unable to be alone, the summary said.
When interviewed by police five days later, Song said he thought the woman wanted a physical relationship and she said yes when he asked if he could touch her.
Song, who has no previous convictions, required a Korean translator in court.
Judge James Weir gave Song a three strikes warning and ordered a pre-sentence report be prepared with home detention appendices.
Song was remanded on bail for sentencing on December 2.
For more articles from this region, go to Rotorua Daily Post