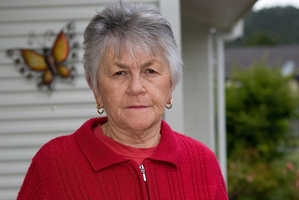 A Whangarei volunteer is warning owners of small dogs to take care when walking them after her beloved Sydney Silky was mauled to death in a random attack.
Karen Vendt was walking her dog Fred near their home in Princes St, Kensington, last Wednesday when a young boy walking a large dog approached them. Mrs Vendt said the boy was only around 5 years old.
She had time enough to see the large dog bolt but the next thing she knew, the dog had Fred between his teeth on the ground.
"I punched him, I kicked him, I punched him as hard as I could on the head," she said.
A car screeched to a halt on the road and a woman jumped out to help Mrs Vendt rescue her dog.
Fred later died from his wounds and Mrs Vendt had to be treated for puncture wounds to her hand.
Mrs Vendt is grieving the loss of her companion.
"He was a lovely little boy. He was so friendly. It was a miserable way to end our little dog's life."
At the time of the attack, neighbours came and assisted Mrs Vendt in getting Fred to a vet straight away, and one took the little boy home.
"The little boy was crying and saying 'I'm sorry'.
"We are sorry that someone would let the little boy cart around this big dog on a rope.
"I wish I could tell people not to let them out with small children. I just hope it doesn't happen to anyone else."
Mrs Vendt later visited the boy's Mains Ave address and informed Environment Northland, but there was no dog registered to the address.
She said she is concerned that the dog could be returning to the neighbourhood any day and could kill another little dog.
Mrs Vendt is an active member of the community and volunteers for several charities, including driving the hospital shuttle van.
Fred was a Sydney Silky she adopted from the SPCA six months ago when he was around four years old.
She said she could have done more to save Fred, like lift him up into her arms when the big dog approached, and hopes other dog owners will remember it. Since Fred's death she has been having trouble sleeping, and can't get rid of the image of Fred between the dog's teeth.
For more articles from this region, go to Northern Advocate