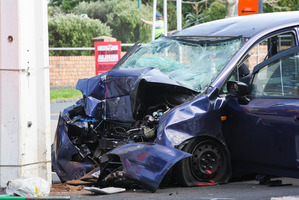 A woman killed in an early morning crash which also left three others injured may have been driving under 50km/h, police said.
But alcohol and a lack of seatbelts may have been contributing factors in the crash on Carrington Rd in Pt Chevalier, Auckland about 5.30am.
The car with four occupants crashed into another vehicle before smashing into a power pole, police said.
The 20-year-old female driver was killed, while her three passengers, all thought to be of a similar age, sustained moderate to serious injuries. The sole occupant of the other car was not injured.
Some of the occupants were trapped and firefighters had to cut them from the wreckage.
The injured were taken to Auckland Hospital for treatment.
However, speed may not have been a factor, as police told 3News it was believed the car was not travelling at more than 50 km/h.
Police will investigate whether alcohol was involved, with toxicology tests due to be taken during a post-mortem tomorrow.
Bottles of alcohol were found inside the vehicle, Senior Sergeant Matt Knowsley said.
"Whether that alcohol was actually involved in the operating of the vehicle we don't know. We're trying to firm it up.''
Mr Knowsley said police suspected the occupants of the crashed car were not wearing seatbelts.
A number of people witnessed the crash, who were being interviewed by police.
"It's not a nice thing to see on a Sunday morning, or at any time, for that matter,'' Mr Knowsley said.
Police were in the process of formally identifying the deceased woman and notifying her next of kin.
"The message here is, as with most accidents, they are avoidable,'' Senior Sergeant Logan Christian said.
Carrington Rd was closed between Great North Rd and Segar Rd this morning as the serious crash unit carried out its investigation.
- APNZ