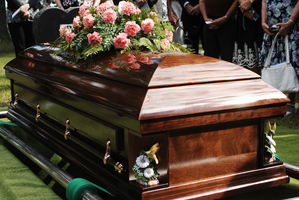 The Law Commission is looking for public feedback on sweeping changes proposed around funerals and burials.
Among the major reforms for public debate are proposals to open the cemetery sector up to alternative providers, including those wishing to establish eco or natural burial sites, and allowing for burials on private land such as a family farm.
The commission was also asking for public feedback on whether there was a case for stronger controls and accountabilities for the cremation and funeral sectors.
President Sir Grant Hammond said it was the first time the law that controls matters such as where and how burials took place and the responsibilities of those providing funeral and cremation services had been reviewed holistically.
"This is an incredibly important and sensitive area of our law which touches hundreds of thousands of New Zealanders every year as they confront the death of a family member, friend or colleague."
It is important the law does not unreasonably restrict the ways in which people of different beliefs and cultures express those needs, he said.
The commission was also seeking feedback on how the law should respond to disagreements over the most appropriate way to farewell the dead, and deal with their physical remains.
Burial disputes were determined by the High Court or, on appeal, by the Court of Appeal or the Supreme Court, but the commission proposed they were instead heard in the Family Court or, where appropriate, Te Kooti Whenua Maori (the Maori Land Court).
The commission has also proposed a requirement for all businesses providing professional funeral services to be licensed.
There is no industry-specific oversight of the funeral sector and no legal requirement to be appropriately qualified.
The project's lead Commissioner Wayne Mapp said historically New Zealanders had been well served by family-based funeral directors who performed a vital role in their communities.
"During our consultation with cemetery providers and funeral directors we were informed of a growth in the number of small (one or two-person) businesses, sometimes with little or no industry experience or formal training.
"In contrast, some evidence suggests that large corporations may play an increasingly significant role in the market, providing a range of funeral services through various subsidiaries, including operating several funeral homes, operating cremators and importing caskets."
The objective of the commission's proposed reforms was to ensure that people had access to the information and quality assurance systems to ensure they had the necessary consumer protections, Dr Mapp said.
A summary of the paper and the key reform proposals and questions for public consultation can be downloaded from the Law Commission's website.
- APNZ