Govt, council to unveil plans for NZ's biggest community housing project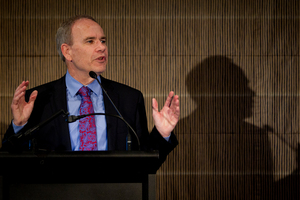 New Zealand's biggest "third sector" housing development to date is expected to be unveiled in South Auckland today as the first concrete outcome of new policies to overcome a dire shortage of affordable housing.
Housing Minister Nick Smith and Auckland Mayor Len Brown are expected to announce a deal with community housing and Maori groups to build almost 300 homes on a 15.6ha farm next to a Child, Youth and Family child protection residence in Weymouth.
The deal will represent the first significant transfer of land from Housing NZ to community groups under a policy aimed at boosting the role of the community or "third sector" from just 5000 homes at present, or about 7 per cent of the country's 69,000 state houses, to 20 per cent of all social housing within five years.
It will also be the first major project to be fast-tracked for building permits under the housing accord between the Government and Auckland Council which came into force last month.
The Government is expected to contribute $25 million earmarked in its social housing plan last year for "specific larger developments and/or possible asset transfer initiatives".
Most of this seems likely to comprise transfer of the land to a new consortium led by the NZ Housing Foundation, mental health housing provider Community of Refuge Trust, the Tamaki Collective of Auckland iwi, and the Onehunga Hostels Endowment Fund, which has been administered by the Maori Trustee since early last century.
The Housing Foundation, which was set up by Warehouse founder Sir Stephen Tindall's Tindall Foundation, is expected to offer shared-equity housing, allowing first-home buyers to start by owning only a part-share in a house, paying a mix of rent and mortgage payments until they can afford to buy the rest of the property.
The foundation, the Community of Refuge Trust and other community housing groups will also provide rental housing, using a new policy announced in this year's Budget giving them the same subsidies as Housing NZ to rent to low-income households at 25 per cent of their income.
Community Housing Aotearoa co-chairman Warren Jack said it would be the country's biggest community housing development yet and his own agency, Habitat for Humanity, was keen to be involved.
"We have been involved in discussions and are excited by the thinking that is going into it," he said. "It's a decent-sized project and something that the community housing sector can really use as a means of demonstrating its capacity for working together collaboratively."
A Weymouth resident and trustee of the Auckland Community Housing Trust, Alan Johnson, said the project had taken years to come to fruition after Child, Youth and Family sold 10ha of the 15.6ha site to Housing NZ in 2006 for what was initially planned as a state housing development.
The rest of the site was sold to the Ministry of Education and had been earmarked for a Maori-language high school which was now building at a new site in Browns Rd instead.