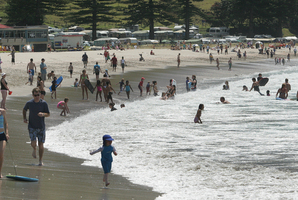 Bay of Plenty beach-goers are being warned to watch out for washed up metal canisters, after a cargo ship lost cans of potentially deadly chemicals overboard.
The MV Gladiator cargo ship was travelling from Napier to China, when rough seas caused 14 flasks of aluminium phosphide (ALP) to be swept overboard on Wednesday night, the Bay of Plenty Regional Council said.
The ship was 200km offshore from Opotiki at the time.
ALP, which is used for treating wood products, generates a toxic phosphine gas when it comes into contact with air and moisture. It is also highly flammable.
The council's maritime operations manager Reuben Fraser warned people not to pick up the canisters, which weigh about 1.5kg and have a red and white label.
People exposed to even low levels of the chemical would feel ill. It could also cause ringing in the ears, fatigue, irritation to the skin and eyes, nausea and pressure in the chest. High concentrations could be fatal, Mr Fraser said.
"With school holidays this week it's vital that parents warn children playing on the beach not to touch the canisters, since they are small enough to attract children's interest.
"ALP is safe in the flask and is very difficult to open," Mr Fraser said.
"If the flasks wash up we will collect and dispose of them."
Mr Fraser said the council was notified about the canisters this morning. They were told the box of canisters had been placed in the ship's storeroom. The door to the room had been open when the ship sailed and as a result of rough weather, water washed into the room and swept the canisters of ALP and other items into the sea.
While there was only a small chance the cans could be washed up on the region's beaches, it was important residents were aware of the situation, Mr Fraser said.
Those who come across any of the canisters should not open them. They should report the location of the canisters to the council's pollution hotline on 0800 884 883.
- APNZ