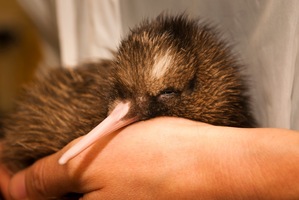 Eight Kiwi chicks have died from respiratory tract infections at Wellington Zoo.
The young rowi - the rarest species of Kiwi - contracted the infections from a fungus growing on bark they were being housed on.
The Department of Conservation (DOC) said the birds, which were already being treated for worms, were removed from the bark as soon as vets suspected a problem.
"The respiratory tract infection was caused by the fungus Aspergillus spp. which is commonly found in the environment,'' Jo Macpherson, DOC biodiversity manager in Franz Josef, said.
"It is thought the birds' weakened immunity from the nematodes [worms] made them susceptible to this.
"Aspergillosis is a very susceptible disease and causes severe damage to the lungs and air sacs in birds. It is also incredibly difficult to treat with a very low success rate,'' she said.
The bark which the birds were housed on had been used regularly at the zoo to stimulate a natural environment.
There had been no prior problems, Ms Macpherson said.
"Obviously zoo and DOC staff are devastated by the loss of the birds.''
It would also be a "big blow'' for charity Kiwis for Kiwi, which has been working with DOC to increase Rowi numbers through the BNZ Operation Nest Egg programme.
"These birds were removed from the wild as eggs in order to protect them while they grew big enough to defend themselves.''
After living on predator-free Motuara Island in the Marlborough Sounds, they were transferred to the Wellington Zoo and Massey University in September for specialist treatment, Ms Macpherson said.
DOC was also waiting for autopsy results for another Kiwi death which occurred at Massey University. It was unrelated to the eight deaths at Wellington Zoo, she said.
- APNZ