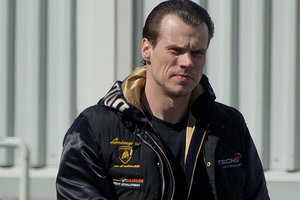 Alleged international drug trafficker Rokas Karpavicius does not deny that it was his voice speaking to New Zealand career criminal Ronald Terrence Brown in covert police recordings, his lawyer says.
However, the jury deciding the outcome of his trial would have to draw inferences from Crown evidence if he was to be found guilty.
Karpavicius, 33, is on trial in the High Court at Auckland having pleaded not guilty to charges of importing Class A and B drugs, conspiring to import a Class A drug and laundering money.
He is alleged to have supplied large quantities of drugs from Europe, while Mr Brown, considered a godfather of the criminal world in Auckland, took care of the New Zealand end of the operation.
Opening the Crown case this morning, Michael Walker said Auckland drug detectives had intercepted coded phone conversations between the two men and their associates.
"In the phone calls, you won't hear people openly discussing drug dealing.
It's people talking in codes," Mr Walker told a jury of eight women and four men.
"It's not just what's being said, it's how it's being said."
For example, there were numerous references to a man called "Jimmy" whom the Crown said was actually Karpavicius.
There were also reference to "the bikkie tin" which the Crown said was an ASB vault in which police had found more than $100,000 and passports in various people's names.
In a brief opening address this afternoon, Karpavicius' lawyer Graeme Newell said his client did not deny it was his voice on the phone.
"Not only have the defence agreed to a large number of the facts ... the defence admit that wherever the name Rokas Karpavicius is referred to in the transcript it is in fact Mr Karpavicius.
"At the heart of this case are going to be matters of inference and whether inferences can be drawn from the Crown's evidence."
Mr Newell warned the jury to beware of phrases like "associated with" and "involved in" during the trial, and reiterated that Karpavicius had a right to remain silent.
Earlier, the prosecution said Karpavicius' fingerprints were found on a Spanish version of a Harry Potter book which had the Class A drug LSD hidden in the spine.
The court was told that Karpavicius also allegedly sent Brown granite statues containing large quantities of MDMA, or ecstasy.
Mr Walker said what would become apparent when listening to the taped phone conversations between Karpavicius, Brown and their associates was that the biggest problem they faced was what to do with all the money they were making.
They used human money couriers to change their drug money into foreign currency.
Two of them, Donatas Jukna and Martynas Cikas, were in 2008 found by New Zealand Customs with two false passports and more than $300,000 cash in numerous currencies, Mr Walker said.
"Quite simply, money laundering is a plain reality for those who embark on smuggling drugs."
Karpavicius was arrested late last year and taken into police custody in Latvia as he travelled to Turkey. A "red notice" posted by Interpol had alerted Latvian authorities to the serious drugs charges he faced in New Zealand.
Detectives from the Organised and Financial Crime Agency of New Zealand flew to Latvia to collect Karpavicius and extradite him.
The trial, before Justice Graham Lang, is set down for two weeks.
- APNZ