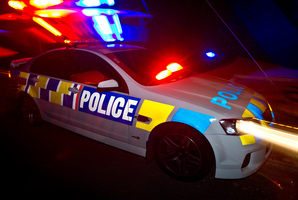 A Hutt Valley taxi driver was stabbed in the head "out of nowhere" after he refused to give two women a free ride early today.
The driver, a Hutt and City Taxis employee, was recovering at home today after the attack on Queen St in Upper Hutt about 3am.
Police said the women pair used a sharp object to stab the taxi driver. He suffered minor injuries and did not need stitches.
The women, who fled on foot, have not yet been caught but police are tonight scouring camera footage from the taxi in an effort to identify the pair.
Hutt and City Taxis general manager Roger Heale said two women got into the driver's car and requested a free ride.
"A discussion followed, a relatively civil discussion, and then out of nowhere he was attacked by one of the passengers," he said.
"Very fortunately, the wounds were superficial but having seen the footage, we think that our driver got away very lightly."
The driver did not know what had happened to him at first.
"He just tried to escape from his car, and then when the passengers left, he got back in and drove off. But now that he's seen this footage, he's a little bit shocked as well."
Mr Heale would not go into details about the driver, but said the man would stay at home with his family until he felt well enough to return to work.
The attack could easily have been a lot worse, he said.
"It was unprovoked, using a sharp instrument ... He fortunately only received superficial injuries, and he managed to get himself to the police station and to the local hospital before being discharged later this morning."
Mr Heale said some young women used to accuse drivers of sexual assault if they could not get a free ride, but the mandatory cameras in taxis had put an end to that.
The company had now given camera footage of the incident to police.
"We hope there is enough evidence there. It's in their hands now. But people should be aware that we are able to do this."
Mr Heale said he did not want New Zealand to become a place where there had to be bulletproof glass between passengers and drivers, but driver safety was paramount.
"Your ride being slightly diminished is a lot less of a price to pay than a family's life being destroyed because of their father not coming home."
Wellington police communications manager Nick Bohm said an investigation into the incident had been launched.
A scene investigation was underway of the area where the attack occurred and police were planning to interview the driver when he was ready.
Footage from the taxi was also being reviewed, he said.
The New Zealand Taxi Federation said the attack demonstrated how important cameras were for cabbies.
"You'd have no hope of tracking them [the women] down if you didn't have the camera," executive director Tim Reddish said.
Asking passengers whether they had money for a cab fare before taking them was not unusual.
"There's no use in getting to the end of the journey and finding people have got no money.
"It is very common procedure for taxi drivers to ask if they've got the money, or ask them to show the money or see their cards," Mr Reddish said.
Use of cameras by the industry was currently under review, he said.
"There were some dodgy camera providers out there. That's an issue we're talking to the NZTA [Transport Agency] about at the moment."
Implementing stricter rules around checking taxi cameras was a big part of the review, Mr Reddish said.
- APNZ