Pillars programme for children with parents in jail desperate for volunteers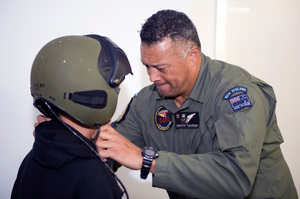 A programme to help prisoners' children is desperately short of mentors - especially men.
It has mentors for only 23 children in Auckland, where it has been running for four years, and 31 in Christchurch, where it started 25 years ago.
Yet a 2010 survey found the country's 8600 prisoners have an average of 2.4 children each, so about 20,000 children have at least one parent in jail.
One Auckland family of four children live with their grandparents because both parents are in jail. The three older children each have their own personal mentor.
Dale Gray, 43, who runs an executive recruitment business and mentors the family's 7-year-old boy, has never met the parents and doesn't know why they are in jail.
"I don't ask. He doesn't talk to me about it - which is an interesting observation, because going into it, I thought I'd need to know. But when you get involved, it doesn't matter," he said.
"He has a no-strings-attached relationship with me. He's the centre of attention. He can express himself. He has a lot of fun with me, I see lots of his cheek and his humour and I see his confidence grow."
Mr Gray has two daughters of his own, aged 14 and 12, and volunteered because he saw a billboard seeking mentors for the programme run by a charity called Pillars - founded by a group of prisoners' partners who needed "pillars of strength".
"I've always had a social conscience. Sometimes you just need a catalyst to turn it on," Mr Gray explained.
Co-ordinator Georgina Langdon-Pole said a mentor was not meant to replace the absent parent and often stayed involved in a child's life even after the parent returned from jail.
"You are not like a family member. It's like a coach or a supportive adult or a friend, more of an equal relationship."
•A recruiting stand is open until tomorrow on the ground floor of Telecom House, 167 Victoria St West, Auckland.