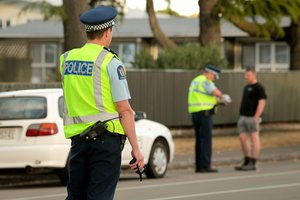 More than 200 serious and repeat drink-drivers have been sentenced to having a device fitted to their car which prevents it from starting if alcohol is detected on their breath since new laws came into force last year.
Alcohol interlock sanctions became available to the courts on September 10, 2012, as a sentencing option for repeat drink-drive offenders and first-time offenders convicted of driving with blood-alcohol levels double the adult limit.
Following a mandatory three-month disqualification during which no driving is allowed, offenders with a interlock disqualification are able to apply for an alcohol interlock licence - restricting them to driving a vehicle with an interlock device fitted. Offenders bear the cost of fitting and monitoring the interlocks.
In the first year the sanctions have been available, 242 alcohol interlock sentences have been handed down by the courts to 220 offenders, with 77 interlock licences issued by the New Zealand Transport Agency (NZTA).
Of the 77 offenders who have received interlock licences, 68 have had interlocks fitted to their vehicles.
NZTA road safety director Ernst Zollner said interlocks and zero-alcohol licences were part of a concerted effort to reduce deaths and injuries caused by drink-drivers.
The same legislation gave courts the power to impose zero alcohol sanctions on serious and repeat offenders, requiring drivers to maintain a zero alcohol limit for a fixed period of three years.
Since September 10, 2012, more than 3800 zero-alcohol sanctions have been handed down and 171 zero-alcohol licences have been issued.
The number of serious crashes with drunk drivers has dropped and 2013 is on course to be the lowest road toll in more than 50 years, says Associate Transport Minister Michael Woodhouse.
How the devices work
* Alcohol interlocks are a device similar to a breath analyser and are connected to a vehicle's starting system. Before the vehicle can be started, the driver must provide a breath sample.
* If the analysed result is higher than the pre-programmed breath-alcohol level, the vehicle will not start.
* Interlocks in New Zealand are effectively set for a zero limit.
* Interlocks are needed not only to start the vehicle but also at random times when the vehicle is in use.
Have your say
Email us at newsdesk@nzherald.co.nz.
- APNZ