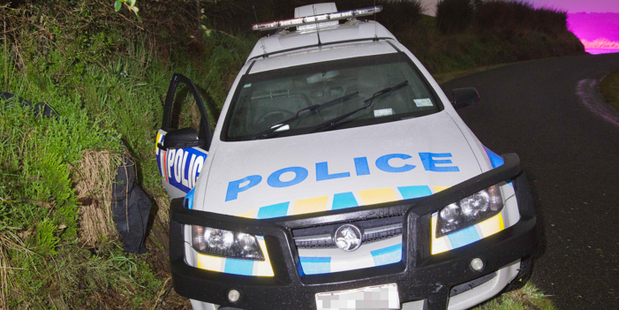 A police dog handler was chased and threatened by a gun-wielding offender who stole the officer's car and drove at him around midnight near Hamilton.
New details have emerged over the incident which has sparked an internal police investigation, after the man took the officer's vehicle at gunpoint and made off with the handler's dog and weapon in the car.
It was a frightening incident for the handler who only just managed to pull his canine partner from the vehicle as it was being driven off, Waikato Police district commander Inspector Win van der Velde said in a press conference this afternoon.
Moments later the pair were being driven at by the offender, and had to take evasive action to avoid being hit by the police vehicle.
Mr van der Velde praised the actions of the handler as "highly commendable", saying he had acted correctly in a difficult situation.
The drama unfolded on the outskirts of Hamilton at midnight on Thursday when the officer saw a car police were looking for, and gave chase.
When the car lost control on a sharp corner near Puketaha the handler and his dog approached the vehicle expecting the offender to take off on foot.
Instead they were confronted by the man brandishing a handgun who threatened to shoot the officer.
As the officer retreated to his car the man gave chase, again threatening to kill the policeman.
At that moment the police dog jumped into the back of the vehicle and the offender got into the driver's side, started the car and began to drive off.
"The handler has pursued on foot, his vehicle, and reached in through the back to recover his dog. The offender has then done a u-turn and driven at the police officer and his dog before continuing towards Morrinsville from the crash scene."
Truck drivers who were put on alert for the stolen police car noted sightings and helped police track the abandoned vehicle to Old Hill Road in Tahuna, north of Morrinsville at about 2.30am today.
Police were now examining both vehicles for clues about who the offender is. He was armed and dangerous, police said.