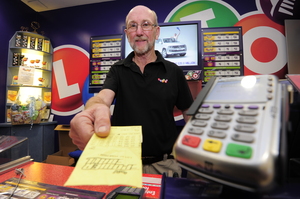 With a combined record prize pool of $47 million up for grabs across Big Wednesday and Lotto Powerball this week, Lotto officials have named the only five outlets to sell a winning ticket in both games.
Two stores in Auckland have sold tickets that won the top prize in both big jackpotting games - Pakuranga Lotto and Hayward's Paper Power in Devonport.
The other three are Kuripuni Lotto and Post in Masterton, Andrew Spence Pharmacy in Napier and Lotto New Zealand's online shop, MyLotto.co.nz.
Tonight's Big Wednesday jackpot stands at $20 million, the third highest ever seen in the game, and Saturday's Lotto Powerball draw stands at $27 million, also the third highest in this game's history.
- APNZ