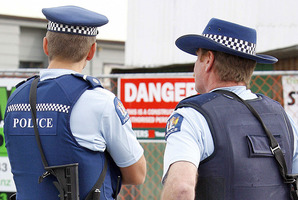 Police bosses will not rethink safety procedures around lone officers on patrol following the latest violent attack on a sergeant that left him barely recognisable, but say they will try to learn lessons from the incident.
Sergeant Simon Tate was punched, kicked and had his head stomped on in an unprovoked assault that could have been prevented had a partner been travelling with him, the injured officer's mother says.
Assistant Commissioner Operations Mike Rusbatch said the incident had not prompted a review of deployment policies.
''(But) police does review all critical incidents to determine whether there are things we can learn to improve our response in future, and this incident is no exception,'' he said.
Mr Tate was attacked on Saturday night after stopping a vehicle in Sandrine Ave, Otara. A member of the public had reported that a woman may have been in trouble.
While speaking to the woman Mr Tate was attacked from behind and struck repeatedly, leaving him unconscious on the ground.
Walter George Tauatevalu, 36, has been charged with attempted murder and two charges of male assaults female, in connection with the incident.
Mr Tate's mother Sharon said the attack could have been prevented if he had been working with a partner.
"There was only the one man and he did come from behind Simon, so perhaps if there had been a second person they would have at least been able to warn him,'' she told Radio New Zealand.
"I believe that staffing difficulties make it impossible for that to happen on every occasion.''
Police Association president Greg O'Connor said senior officers usually worked alone and supervised other officers and in theory were never supposed to be first responders to violent incidents.
"However, the reality of it is they do get sent ... and often sergeants stumble upon incidents, which I think is what happened in this case.''
There was no easy answer, but there needed to be a rethink on the way officers approached offenders, he said.
"It's obviously something we're talking to police about.''
Police Minister Anne Tolley said she had no plans to ask police to review their policy on sending officers out on patrols alone.
"Police assess the risks all the time with any callout, but when officers are just carrying out their normal routines very often there's one of them (on patrol).''
It was up to the Commissioner to decide how to deploy his officers, Mrs Tolley said.
Other attacks on lone officers:
* April 2011 - Senior Constable Steve McLardy of Turangi police is left unconscious after pulling over a suspected drink driver who knocked him to the ground and punched his head and face at least 20 times before fleeing
* December 2010 - Senior Constable Bruce Mellor suffers multiple skull fractures and cuts to his head and body from a machete attack after stopping a stolen car driven by youths in Taihape
* May 1999 - Constable Lester Murray Stretch is bashed to death in the small South Waikato town of Mangakino while investigating reports of a burglary at a store
- APNZ