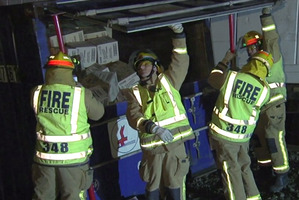 A crane will remove two containers partially blocking State Highway 1 and a rail line after a freight train derailed in Waikato today.
The Fire Service was called to the scene at Mercer about 3.20am, northern fire communications shift manager Paul Radden said.
Three wagons had derailed from a northbound train, with one container partially blocking SH1's southbound lane and another blocking the second track.
Cleaning products, cakes and confectionery had been thrown from the train, RadioLive reported.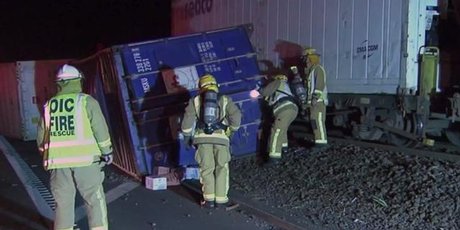 "Firefighters are currently wearing breathing apparatuses and checking the contents, but there is believed to be no dangerous goods on board - it's precautionary only," Mr Radden said.
Police would not close the road completely to avoid major traffic disruptions to northbound commuters, he said.
KiwiRail spokeswoman Kimberley Brady said the derailed wagons were believed to be the last of 36 that were being pulled by the engine.
The crane was coming from Hamilton to remove the wagons.
"They had to wait until daylight before starting the operation," Ms Brady said.
The derailment would result in delays for freight trains and possibly the Northern Explorer passenger train, Ms Brady said.
It was not yet known how the train came to derail.
- APNZ