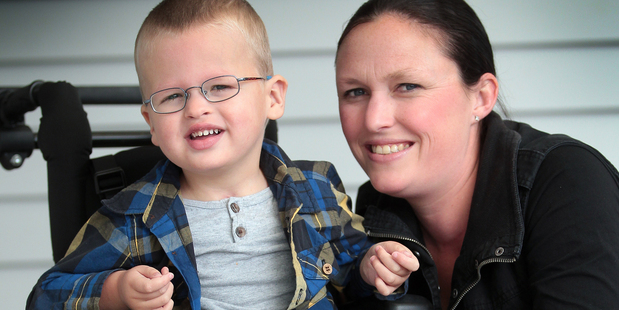 Three-year-old Liam Dyer can't walk, talk or eat and doctors don't know why.
But the Auckland boy's medical mystery may be solved with ideas generated at a conference where tough cases are studied by top geneticists.
Liam's mother, Amy Dyer, said the possibilities from the recent Australasian conference had given the family hope.
"The hardest thing about Liam's case is not knowing what is wrong," said Dyer, a registered nurse.
Liam, 3, wasn't breathing when he was born and needed a tracheostomy, a breathing tube inserted in his neck.
Since then, he has been under the care of ear, nose and throat specialist Dr Nikki Mills and more recently geneticist Dr Ian Hayes.
He's had numerous scans and reconstructive surgeries on his air passages. There has also been gene testing and physiotherapy - but no unifying diagnosis.
"He can sit and roll but he can't follow instructions and he can't vocalise or tell us what we wants," Dyer said. "If he doesn't like something, he covers his ears; that is the only way he can communicate."
Dyer said family support had been essential in the past three years - especially as she and husband Craig have a 5-year-old daughter to care for as well. An electrician, he took nine months off work when Liam was born.
Big sister Chloe is close to Liam, even though she's never heard him speak.
"Chloe's wish for her fifth birthday was that Liam could walk. She is really sweet with him," Dyer said.
Suggestions from the conference meant more tests for Liam, she said, but the family were keeping their expectations in check.
"I know he will never be normal but I want him to be the best he can be."