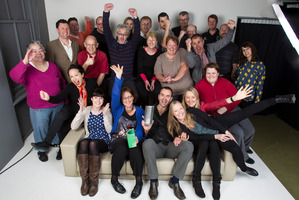 Great newspapers are all about their readers, not their journalists.
It's a philosophy any editor worth his or her salt has to follow if they want to have any real degree of success. And here at the Herald on Sunday, a strategy we follow weekly has been rewarded with a prestigious international award win.
We were named the best Sunday newspaper at this week's Panpa Awards, making us No1 not only in New Zealand but also Australia, the Pacific Islands, Singapore and Hong Kong.
What made us stand out and become just the second NZ Herald title ever to win at Panpa?
"A newspaper that has its readers at its heart. It reads, feels and looks like an authoritative voice. Great use of graphics and photos. Its current and future strategy is bold and impressive, and is based not on technologies, like so many others, but on a relationship with its community," one judge said.
Another said: "The editorial team really seems to have understood their readers and the needs of the community. The beach campaign is a great example of that work. The layout of the pages are excellent and the writing as good as any other entry this year. With the NZ Herald, it is the perfect seven-day package."
The third judge agreed: "I like this newspaper a lot. It feels right. It is not forced, or trying too hard. It knows it is a great paper, so it just is one. The entries this year were excellent.
"The Sunday Age is a great paper, too, but for me, Herald on Sunday edges out a great set of entries."
It is vindication of the strategy we have followed - think Two Drinks Max, the campaign to pressure the Government over drink-drive limits; Beach Busters, the bid to clean up New Zealand beaches; Sideline Champs, the drive to improve behaviour at school sport matches; and Quitters, the new stop-smoking initiative dozens of readers have signed up to (see page 14 today).
Beach Busters won the environment award at Panpa, and Sideline Champs was finalist in the best marketing campaign category.
Yes, great journalism and story-telling is at the heart of what we do, and providing compelling lifestyle material through our popular Living magazine is also crucial. But in this day and age, if you're not building community as well as reporting on it, a print product is going to struggle.
Personally, our win is a huge source of pride. Today is my last edition as the paper's editor. I'm moving into a business development role with the NZ Herald titles.
After nearly 10 years as an editor, I felt it was time for a change.
You can be assured, however, the Herald on Sunday team will keep delivering for you. I've not worked with a more dedicated group, and acting editor Jonathan Milne is a driven man.
We face so many barriers to what we do, particularly the armies of PR spin doctors that inhabit so many of the institutions we report about. They outnumber the journalists, and some take great pride in blocking us in our work.
But they don't often beat us and readers seem to know that - how else do you explain the paper having the best readership and circulation results in the country over the past three years?
My many thanks to your commitment to us, and to the hundreds of readers I've personally interacted with. You're why we exist.
Bryce Johns
Editor, editor@hos.co.nz