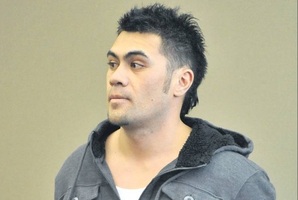 A man who bit off part of a woman's lip and spat it on the floor has been jailed for more than two years.
"She says she may well have a permanent scar," Judge John Macdonald told Corey David Dowie, 29, in Dunedin District Court yesterday.
"She is afraid of you and wants no further contact."
Dowie earlier admitted intentionally injuring the woman, and possessing an offensive weapon (a broken ornament), showing intent to use it to commit an offence involving the fear of violence.
He was sentenced to two years and eight months' jail on the injuring charge and nine months (concurrent) on the other charge over the incident on June 6.
The judge also made a protection order in favour of the victim.
Judge Macdonald said Dowie had been drinking at the woman's home when he became agitated and argumentative.
Standing over the woman while she was sitting on a sofa, he leaned down without warning and bit into her lower lip, biting off part of it and spitting it on to the floor.
While he was biting the woman, her dog bit him on arm.
Enraged, he said he was going to stab the dog.
He picked up an ornament, broke it in half, and said he was going to stab and kill the dog.
He chased the dog into a bedroom and slashed at the dog with the broken ornament, causing minor injuries.
While Dowie was with the dog, the woman was able to escape and run to neighbours for help.
Crown counsel Richard Smith said the biting was an extreme act. The victim was vulnerable in being seated, and Dowie was stronger than her.
Asked about the victim's injury, Mr Smith said she had a small visible scar but was not disfigured in the true sense of the word. The scar was not plainly visible "to all and sundry".
Defence lawyer Campbell Savage said the violence was not prolonged or premeditated.
The fact summary sounded awful, as if a piece of flesh was bitten off the victim's lip. But it was more like a piece of skin was removed.
Judge Macdonald said Dowie was on parole at the time. Violent behaviour was not new to him. His past convictions included two for injuring with intent to injure, other assaults, possessing a knife and threatening to kill.
Although the current offending involved only one bite, it was violence of an extreme kind and without warning. The victim was vulnerable and had no chance to defend herself.
A further aggravating factor was the weapon and what Dowie did with it. And his threats about the dog would have added to the victim's level of stress.