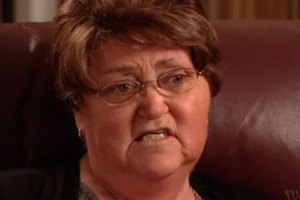 An alternative treatment therapist who is accused of breaching the Code of Health and Disability Services Consumers' Rights after one of her patients failed to seek medical care says she repeatedly recommended the patient get help at the hospital.
Iridologist Ruth Nelson, 72, treated Yvonne Maine for a lesion on her head for 16 months beginning in February 2008.
Iridologists are natural health practitioners who examine a set of muscles in an individual's eye - the iris - and then deduce the the health of other parts of the body from what they see.
Mrs Nelson's treatment of Mrs Maine, who is also referred to as Maureen, is the subject of a Human Rights Review Tribunal being held in Wellington this week.
The Office of the Health and Disability Commissioner, which is taking the case against Mrs Nelson, alleges the 72-year-old breached the Code of Health and Disability Services Consumers' Rights in her treatment of Mrs Maine by misrepresenting the effectiveness of her treatment, misleading Mrs Maine about the treatment she could receive from a doctor by playing on her fears, and providing treatment which was beyond her expertise and inappropriate in the situation.
This morning Mrs Nelson, who lives in Otaki and is semi-retired, told the Tribunal she had recommended Mrs Maine seek immediate treatment with a doctor when she first saw her head.
In her brief of evidence, Mrs Nelson said Mrs Maine told her she had already seen a doctor who had informed her the growth on her head was a "sebaceous cyst''.
"She told me she'd recently seen the GP and the hospital, and they had cut it out and it needed time to heal,'' Mrs Nelson said.
There had been no mention that the cyst could have been cancerous, Mrs Nelson said.
The iridologist also described her initial reaction to seeing the growth on Mrs Maine's head and being asked to treat it: ``I refused, and told her she needed to go to hospital.''
"It was disgusting ... full of cyst like growth, weeping and smelly.''
She also told Mrs Maine treatment of the growth was ``way out of my league'', Mrs Nelson told the Tribunal.
Her account of the next 16 months, in which she saw Mrs Maine regularly for treatment, varied substantially from that given by Mrs Maine's two daughters - Carla Taylor and Julieta Williams - yesterday. Both women said their mother was discouraged by Mrs Nelson to go to the doctor.
Mrs Nelson defended these allegations today, saying: "I have never counselled anyone to refuse medical treatment. I knew that was what Mrs Maine required and I told her so, continually I might add.''
Mrs Maine eventually sought professional medical help in late 2009.
She received major surgery and had part of her skull replaced with bone from her ribs, but died a year later, aged 67.
During the course of the 16 months Mrs Maine was treated by Mrs Nelson, the lesion on her head grew in size to 10cm by 11cm.
The tribunal, which is being presided over chairman Rodger Haines, QC, continues.
- APNZ