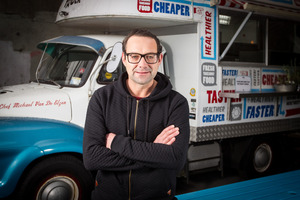 Shoppers trying to feed their families well on limited budgets are being told to buy something else when seasonal variations push the price of fresh vegetables out of their limits.
The price of capsicums has rocketed past $7 each in some places, a sum that could feed a family of four, according to some chefs.
Capsicum prices yesterday varied between supermarkets, greengrocers and farmers markets around the country, from as low as $1.50 each at one farmers market, to a whopping $7.19 each at a Christchurch New World.
Most prices hovered between $3 and $4 dollars each - with farmers markets the cheapest and supermarkets the most expensive.
Food Truck chef Michael Van de Elzen, said the price was "outrageous" and he could "easily" feed a family for the same cost.
TV MasterChef judge Josh Emett said the cost of the fruit was "ridiculous" and there were plenty of meals he could create for $7, including meat dishes.
MasterChef winner and nutritionist Nadia Lim said she wasn't using any capsicums in her cooking at the moment: "Who on Earth would buy one, that's nuts."
Statistics New Zealand figures show the average cost of capsicums in July last year was about $4.22 for an average-sized capsicum, ($21.12 per kilogram).
HortNZ spokeswoman Leigh Catley said the price came down to supply and demand.
"If for some reason or other it has been more difficult to grow them here in the last month or so, then that is going to show up in much higher prices."
After a two-year hiatus, New Zealand has started importing irradiated capsicums from Australia. "They have to be irradiated, which is a new thing, because of the Queensland fruit fly," Ms Catley said.
In June, the Ministry for Primary Industries has changed import health standards to allow radiation-treated tomatoes and capsicums in to New Zealand.
"If it's too expensive for your budget, you shouldn't buy it, you should buy something else," Ms Catley said.
"There are plenty of other options that are in season and are really good value and that's what you should be buying," she said.
Foodstuffs New Zealand group communications manager Katherine Klouwens said the cost of capsicums varied with the move from winter to summer crops.
"Foodstuffs always tries to supply New Zealand produce first, but in the case of capsicums, some of our stores have had to import them from Holland as New Zealand suppliers cannot keep up with demand."
A Countdown spokeswoman said the supermarket had a special on capsicums this week -$2.49 each until Sunday.
"As with any seasonal product, pricing is determined by a number of factors, primarily supply, demand and growing conditions, and can change from week to week," she said.
**************
Range of capsicum prices
Most expensive:
* South City New World, Christchurch
- Red/Orange: $5.99
- Yellow: $7.19
- Green: $4.99
* Paremata New World, Paremata
- Red/orange: $6.99
- Yellow: $5.99
- Green: $2.99
Middle of the range:
* All Countdown supermarkets
- All costing $2.49
* Hauraki Fruit and Vegetables
- Large red and green: $4
- Small yellow: $3.50
Cheapest:
* Hawkes Bay Farmers Market, Orcona Chillis 'N' Peppers: only green left at $2 each
* Nelson Farmers Market, Heatherdale Orchards: range from $3 to $1.50 each depending on the size
* Bay of Islands Farmers Market, Willowbrook Farm: $2 each all colours.
- additional reporting APNZ