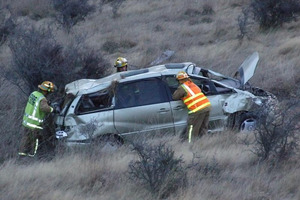 A family from Hong Kong was lucky their rental van did not roll further than 40m down a gully after it came off the Remarkables access road and rolled several times, ripping a door off.
After the 5pm accident yesterday the family of four was taken to Lakes District Hospital, the daughter with a suspected broken ankle and the rest of the family apparently uninjured.
Fire crews used a rescue basket to haul an injured family member up to the road.
Sergeant Keith Newell of Queenstown police said the family was driving a rental vehicle and it appeared the driver had lost control of the van while driving down from the Remarkables skifield after their first day skiing.
"They've come round a tight left-hand corner on a gravel road and lost control of the car. It's gone off the road and rolled several times 40m down a bank," Mr Newell said.
He said the family was "very, very lucky".
Grant Bewley, senior station officer of the Frankton Volunteer Fire Brigade, said a door on the van had been ripped off during impact and the family were lucky not to have been thrown from the vehicle.
"It's come to rest in a small gully and if that gully wasn't there they would have continued another 50-60m," Mr Bewley said.