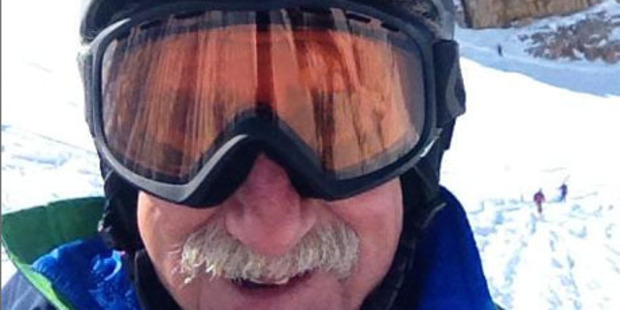 Badly-injured skier Toby Kravet warded off hypothermia and death by repeating four sets of exercises over the 17 hours he lay in snow near Treble Cone.
He was spotted lying on his back waving his ski poles in the air just outside the ski area boundary by a team of three Wanaka LandSAR volunteers at 8.20am yesterday.
Team leader Brent Arthur, of Lake Hawea, said Mr Kravet, 72, was in ''amazingly good spirits'' considering the multiple compound fractures to his lower legs.
''He was very aware if he fell asleep, he would be in trouble. He repeated a set of four exercises to keep his body warm and keep himself awake.''
Mr Arthur said that before being administered pain relief, the American citizen was asked to rate his pain level - with one the lowest and 10 the highest - and he replied ''about three'', conceding it might rise once his ski boots were removed.
The rescue was ''a very tricky, quick snatch and grab'' for Aspiring Helicopters pilot James Ford to fly the machine in and out, because of deteriorating weather, Mr Arthur said.
The Hawaii resident was meant to leave the country today, but spent last night in Dunedin Hospital.
He was ''progressing favourably in a general ward'', a spokesman said.
Earlier this month, he posted about his forthcoming ski holiday on his Facebook page: ''Two weeks of DISCONNECTION: No email, no Facebook. YEAH!!''
Wanaka LandSAR spokesman Phil Melchior said Mr Kravet got on to the Saddle Basin chairlift at 2.30pm on Monday, and because of the bad visibility, or by accident, turned left and traversed out of bounds into the Gottlieb's Saddle area, When trying to ski down, Mr Kravet, who had been skiing at Treble Cone for the past two weeks, ploughed into a snowdrift, struck an obstacle beneath the snow and went over the front of his skis about 3pm, Mr Arthur said.
The search was launched two hours later when Mr Kravet failed to meet his scheduled bus ride from Treble Cone back to Queenstown.
A helicopter searched unsuccessfully for about three hours on Monday night with crew using night vision equipment.
LandSAR teams were deployed at dawn about 7am yesterday and Mr Kravet was found 80 minutes later.
He was flown to the Wanaka Medical Centre, then taken to Dunedin by the Otago Regional Rescue Helicopter.
Mr Melchior said although the temperature overnight was ''below zero'', Mr Kravet was dressed warmly for a day's skiing.
''We are chuffed. The chances of it being a different outcome were obviously very high.''
Ski Express Queenstown ski operations manager Paula Squire-Thomas, who has known Mr Kravet for about 20 years - since he first started coming to Queenstown on package holidays, with her company - said he always wore a helmet and neck warmer.
She described him as ''a lovely guy'', who was ''five-foot-nothing'' and ''very fit'' for his age.
''He runs a lot and goes on regular ski trips with his club in Hawaii.''
Mrs Squire-Thomas had been talking to Mr Kravet's sister in Florida, who had spoken to him before he went into surgery at Dunedin Hospital yesterday.