Woman has fallen out with family over her decision to stand by her kidnapper.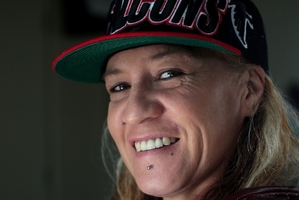 A woman who suffered horrific injuries after she was dragged behind a car at high speed has fallen out with her family over her decision to stay with the man convicted of kidnapping her.
Rotorua mother Ana Eriepa is still recovering from the terrifying ordeal on May 25 that saw her left foot amputated above the ankle, multiple skin grafts, a ripped scalp and a badly dislocated thumb.
Her boyfriend, Sonny Waiti, was to have been sentenced this Friday on the charge of kidnapping, which he admitted, but the Herald understands his case has been deferred to a later date as he is changing lawyers.
Ms Eriepa said she would continue to support Waiti and would attend his sentencing.
She said fears about him were unfounded.
"People don't understand him but he's not a bad guy," she told the Herald at her Rotorua home yesterday.
"Will I stand by him? 100 per cent, I will. He's actually a good boy ... he has a good heart."
Her Facebook page shows her posing in an image superimposed on to another photograph next to Waiti.
The picture has drawn the wrath of family members and friends, who questioned Ms Eriepa on Facebook about what she was doing and expressed fears for her children.
She has hit back, saying it's her choice.
A former Rotorua associate of Ms Eriepa told the Herald one of Ms Eriepa's children had told them she wanted to marry Waiti.
"What she was saying is that she wants to marry the dude. She wants to marry him, even if he goes to jail - she's prepared to go and marry him in jail."
"I'm like 'whoa', she was saying he didn't know what he was doing because of the drugs but now I think a lot of people down here just can't be bothered with it any more ... I really was shocked."
Ms Eriepa told the Herald she had no concerns for her children's' safety around Waiti. But when asked if she intended to marry him she became evasive.
"I'm not saying if it's true but I'm not denying it either," she said.
A woman who referred to herself as Waiti's aunty and was at Ms Eriepa's home yesterday said her nephew "had a good heart".
"He was just on that crap [drugs], that's all," said the woman, who asked not to be named. "He's been through a lot, he has good intentions but just goes about things the wrong way."
According to a police summary of facts, Waiti and Ms Eriepa were in a relationship and had been living together for about three weeks after he was released from prison.
Waiti had only just completed serving a two-year, three-month sentence for aggravated assault and other offending.