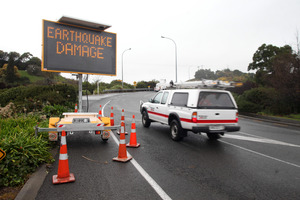 Engineers overseeing the drainage of Seddon's Haldon Dam, found to be at increased risk of breaching after Friday's quake, expect the target water level to be achieved by Thursday.
A Marlborough District Council spokeswoman said a flood alert placed on about 30 properties on the south-east side of the Starborough Creek would be lifted once the team overseeing the dam's precautionary drainage were satisfied with its stability.
"It's still draining away. As time goes by, it's looking better and better.
"People still need to be aware that the thing could still breach, but we're going to scale down the level of alert,'' she said.
Emergency services had also been placed on standby in the event an evacuation was needed.
An update from the dam engineering team confirmed they expected to reach their target level by Thursday, "and risk to Seddon people would be minimum by that stage,'' the spokeswoman said.
Evacuation plans could then be withdrawn.
Marlborough Mayor Alistair Sowman said quake relief donations had already been received through the Mayoral Earthquake Fund.
Eight Seddon houses were deemed unsafe or uninhabitable by council inspectors yesterday. A further 11 have restricted use due to safety issues.
"Heartbreaking stories'' had emerged from around the district, from Lake Grassmere and Blind River through to Flaxbourne, Mr Sowman said.
"I think many people are only too willing to offer support,'' he said.
Meanwhile, Wellingtonians were today being diverted away from part of a central-city street after a three-metre wide sinkhole opened up in the road.
The hole, which was about three metres deep, formed in Hobson Street, Thorndon at about noon.
Damage from the recent quakes was unlikely to have caused the sinkhole, but it would probably have contributed to it, said Wellington City Council spokesman Richard MacLean.
The road had caved in due to a vintage stormwater drain which had collapsed directly below it.
It was not known exactly when the main had collapsed, but Mr MacLean said it was likely to have been in the last couple of years.
.
Marlborough Mayoral Relief Fund:
* account number 02 0600 0202 861 00, donations should note `Earthquake Fund'
* Donations can also be made to the Marlborough District Council offices.
- APNZ