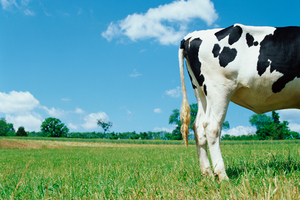 The dairy industry has condemned animal cruelty following this week's conviction of an Ashburton herd manager.
Kevin Craig Smith pleaded guilty in the Ashburton District Court on Monday to breaking the tails of 154 cows, some more than once. He will be sentenced in October.
Yesterday Federated Farmers, DairyNZ and the New Zealand Veterinary Association spoke out. "I have no idea why someone working on a dairy farm would believe that breaking tails makes cows easier to work with,'' Federated Farmers' dairy chairman Willy Leferink said.
"We've seen several instances of this unacceptable practice as of late and it defies logic and stockmanship.
"First, it causes the animal pain and distress meaning they are not going to be a peak performer. Secondly, cows are not clueless. They will become leery of staff making them much harder to handle and to work with.
``If you are hot-headed and prone to lashing out, can I suggest the dairy industry is not the career for you.
"All staff need education on how to handle animals because animal abuse is unacceptable. Given there are stiff penalties we hope the court will send a deterring message when sentencing comes in October.''
DairyNZ's team leader for animal husbandry and welfare, Nita Harding, said the key to managing cows is to work with them, not against them.
"Many procedures on farm are routine and cows, being creatures of habit, will easily comply if they are treated well. It's all about understanding how a cow interprets the world around her and then managing her appropriately,'' Ms Harding said.
"This ultimately leads to more content cows, happier staff and higher milk production.''
The New Zealand Veterinary Association (NZVA) Dairy Cattle Society president, Dr. Neil MacPherson, believes banning this person from working with animals would send a strong message to those who treat animals cruelly.
DairyNZ has an early response service, which involves Federated Farmers, offering confidential support where animal welfare is at stake, by calling on 0800 4 324 7969.
Federated Farmers has recently sent members an important advisory about employer rights in animal welfare cases. Log into fedfarm.org.nz or call 0800 327 646 to obtain a copy.