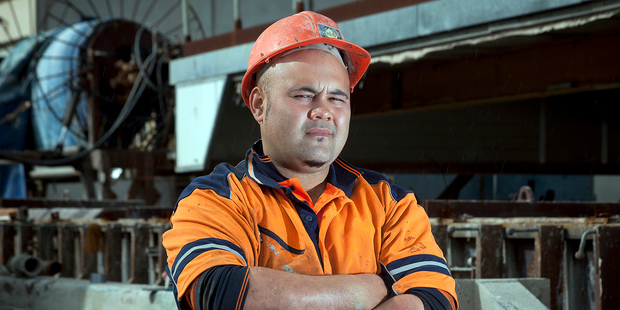 Two heroes of a van crash near Tauranga have spoken out about the role they played in trying to save a passenger from icy black waters.
Kiha Rolleston, 31, was on his way home from work when traffic ground to a halt on the Maungatapu Bridge.
He and his mate leaped out of their car and started towards the scene of last Monday's crash, which claimed the life of Greg Woledge, 24.
"We could hear all these people yelling and just started sprinting."
Peering over the bridge, they could see a man in the water and hear him screaming, "Help me, help me". The van had already vanished.
"When you look over and see him yelling, you think he's talking directly to you. You've just got to do it.
"None of us could swim. One of the guys had a rope. I said, 'I'll jump in. Just don't let me go. I want to go home to my kids'," Mr Rolleston said.
The foreman at HEB Precast jumped off the bridge in the hope the current would drag him towards the man, but soon discovered the rope was too short to reach him.
"I couldn't see him because of the swell but I knew the direction to go," he said. "It was real cold. I was panicking a little bit ... It was just all black. It was only murmurs coming from up top because of the swell all around you."
Mr Rolleston saw Constable Deane O'Connor dive into the water and go after the man shortly before he was pulled back to dry land.
The fully clothed Mr Rolleston was hauled back on to the bridge by his friend and a group of onlookers after about 15 minutes.
Constable Deane O'Connor has spoken publicly for the first time about the crash on Maungatapu Bridge in which one man died.
At a press conference at Tauranga police station today he said he can't remember swimming out to the passenger who he rescued.
"I grabbed him by the hair," he said.
"He was very calm and for about 10 minutes we were there with his head on my chest."
Mr O'Connor said after 10 minutes the passenger spoke to him, but he can't remember what they spoke about.
"The lights just disappeared around us."
Mr Woledge's funeral was held in Tauranga yesterday.
For more articles from this region, go to Bay of Plenty Times