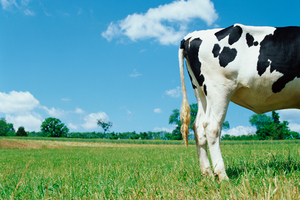 A dairy farmer has been convicted of ill-treating 154 cows by breaking their tails.
Kevin Craig Smith, 38, was convicted in Ashburton District Court today on charges laid by the Ministry for Primary Industries under the Animal Welfare Act 1999.
Smith earlier pleaded guilty to the wilful ill-treatment of the dairy cows by breaking their tails and failing to provide them with treatment for the damage. He also admitted hitting the animals with a plastic pipe, MPI said.
Smith will be sentenced on October 14.
Suspicions around Smith's treatment of the cows were raised in April after a technician working on the farm heard a loud noise and sounds of distress from a cow.
When she went to see what happened, she saw a cow with blood coming down its tail. Smith took no obvious steps to treat the injury.
After the incident, a veterinary inspection found 154 cows had fractures in their tails, clearly deliberate.
Smith admitted to MPI that he broke the tails and was "sickened'' by what he had done, MPI said.
MPI Canterbury/Westland District Compliance Manager, Peter Hyde, said Smith's treatment of the animals under his care was some of the worst he had come across in his district.
"The defendant didn't accidentally break the tails trying to force the cows into the milking shed, they were deliberately broken after he lost his temper,'' he said.
"This sort of behaviour is totally unacceptable to MPI and the wider farming community. If animal welfare abuse of this nature is detected it will almost certainly result in prosecution.''
Federated Farmers Mid Canterbury dairy spokesman Hamish Davidson has condemned the actions of Smith, saying "there is no place for animal cruelty in the industry''.
Smith had been contracted as a lower order sharemilker on the farm in June last year, responsible for 640 cows. By January his employer had concerns about Smith's ability to run the farm, and he was informed his contract would not be renewed. However his offending only came to light in April, and a subsequent veterinary examination found 154 animals, 30 per cent of the herd, had broken tails.
"I don't know why it was done or the pressure he was under but there's no place for it,'' Mr Davidson said. "Humans already make them conform to our systems and I think whatever sentence he gets he deserves.
"You hear the odd thing on farms that someone has done something like that, but usually the outcome is instant dismissal because it's animal cruelty, but I have never heard of it on this scale before.''
Mr Davidson said stress from the abuse would have also impacted on the productivity of the cattle involved.
- APNZ