Couple snag Morningside home, believing the number 4 put Chinese competition off.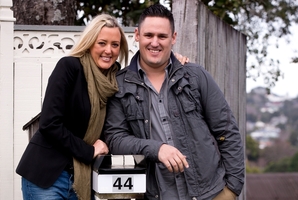 House-hunters looking for a bargain may have more luck seeking out homes with the number four in the address - because they're unlikely to face competition from Chinese buyers.
Many Chinese are avoiding any property with the number on the letterbox or in the street name because four sounds like the word for death in Cantonese and Mandarin.
One couple believe they bought their house - at number 44 on an Auckland street - for a bargain price in a rising market. Alice and Adam Gordon bought the four-bedroom weatherboard house in Morningside for $790,000 - $40,000 above its valuation, set in July 2011.
Massey University marketing professor Henry Chung, who was born in Taiwan and whose ancestors are Chinese, said he would buy a home with a number four on the letterbox only "if I absolutely had to". Eight and six were lucky numbers.
"Four is death, and this is double death. If they changed it from 44 to 88, that would be big sales.
Four definitely is a taboo.
"In quite a lot of elevators, and quite a lot of buildings in China, they don't have a fourth floor. They jump from three to five. With some very elegant, expensive apartments, rich people will particularly ask, 'Please do not have a number four, because we want a long life'."
Professor Chung said people who could not avoid buying homes with a number four in the address often called on a religious elder to bless the property.
The Gordons' house was built in 1995 and has two bathrooms and a floor area of 201sq m on a 443sq m section.
Said Mrs Gordon: "I thought, 'This is totally out of our price range because the CV was $750,000.' And I just kind of knew in my head that anything that we had been interested in, or were even looking at, was roughly $150,000 or $200,000 above CV and $800,000 was our maximum."
But the couple put in a pre-auction offer anyway and were the only bidders when it went to auction, even though there were a lot of Asian buyers in the room.
"I couldn't believe it. I burst into tears. My mother was next to me and she squealed. It was so emotional, probably the next most emotional thing to giving birth to my children."
Several other auctions they watched the same day resulted in homes selling for "crazy amounts", Mrs Gordonsaid.
It is the first home purchase for the couple, who had been renting in Mt Eden with their children Austin, 16, Sophie, 13, and Cleo, 3.
They had looked at about 50 other homes and all went for between 10 and 40 per cent above valuation, Mrs Gordon said.
While the agents who marketed the house did not want to comment, Real Estate Institute chief executive Helen O'Sullivan said: "Number four is not at all popular, I understand, with Chinese people. It depends on the level of credence that people put on it. I've heard it can be a detractor."