Fran Mold faces huge ask, with Shearer's scalp price of failure Mold will inject an essential ingredient into Shearer's game-plan - aggression.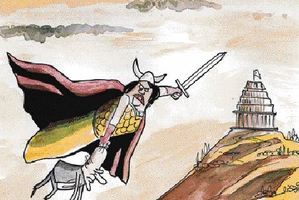 A Boadicea with a Mona Lisa smile plus a wickedly infectious chuckle to boot?
Well, that might be stretching things too far. But not by that much. Fran Mold, David Shearer's new chief of staff, may not yet possess the Warrior Queen credentials of a Michelle Boag or a Heather Simpson, Mold's most famed and formidable predecessor in what is the pivotal role in the parliamentary office of the Labour leader.
But Mold has the pedigree, purpose and persistence to make that grade - and, while she is doing so, demonstrate why Labour's now abandoned "man ban" was both so unnecessary and so insulting to women.
As the new power behind David Shearer's wobbling throne, she probably has the most daunting job in New Zealand politics right now.
And she knows it. If Shearer makes it to next year's election as leader, she deserves to be well-recompensed.
If he wins next year's election - and that does not necessarily mean reaping more votes than John Key - she can name her price. But then she is smart enough to have done so already.
Mold's appointment has been greeted with deep scepticism in some quarters. There are doubts as to whether she has enough political kudos and personal seniority to shake things up in Labour's caucus - and that Shearer hired his former chief press secretary as chief of staff because no one else of calibre could be found to do the job.
However, Shearer's office is said to have lacked direction under Mold's predecessor, lawyer Alastair Cameron.
Mold, a former political reporter for the Herald and then TVNZ's One News, has been steeped in politics.
The media experience has given her an appreciation that while it is vital to present a united front to the world, that does not mean spinning that you got it right when things have so obviously gone wrong.
She is not carrying the baggage of a "true believer". If her emperor is wearing no clothes, she will not hesitate in telling him.
She has another advantage. Having gone from journalism to the "dark side" - as the saying goes - to work for Phil Goff when he was leader, Mold knows exactly where things have been going wrong. Now she can do something about it.
She has not wasted any time in doing so. In the three weeks she has been in the job, her chariot has cut a swathe through Labour's offices at Parliament, literally knocking down walls and reorganising her scant staff into "clusters" of researchers and press secretaries covering separate policy areas. The hope is that getting staff working on the same issues in physical proximity to one another will see them fizzing with fresh ideas and tactics to take the fight to National.
It is but one step in lifting morale in Labour's parliamentary wing which inevitably has been sinking in the face of fluctuating poll results, Shearer's mixed performance and the resulting and equally inevitable speculation surrounding his leadership.
As good and as popular a politician as John Key might be - and to realise just how good, you only had to watch his demolition of John Campbell on Campbell Live this week - National's second-term renaissance must in part be down to Labour's uninspiring performance.
Shearer needs to catch fire. Some of his senior MPs could not even catch a cold. Labour is still fixated with Key's foibles, most notably his shifting stories and memory lapses with regard to the saga surrounding Kim Dotcom and the breach of the law by the Government Communications Security Bureau.
While Key's personal poll ratings may be on a slow slide, National's seem impervious.
While the whole palaver has at times seen Key on the defensive in Parliament, the number of times that Shearer has truly got the better of the Prime Minister can be counted on less than one finger.
Mold will inject an essential ingredient into Shearer's game-plan - aggression. Not necessarily in terms of Shearer's style though. When he tries to sound forceful, he only sounds forced.
The aggression will be evident in the adoption of more risky, but sharper policy stances. The first sign of that was Labour's announcement that it would ban foreigners from buying existing housing stock. That move is unabashedly populist, yet easily defended as Australia has exactly the same restriction applying to foreign nationals.
Mold also had a major influence on Labour's decision not to cut National any slack on the Fonterra crisis. Shearer's initial assurance that Labour would stand shoulder-to-shoulder with National in the national interest lasted less than 24 hours before Shearer was putting Key on notice that Labour expected answers from the various inquiries charged with finding out what went so horribly wrong with Fonterra's milk testing regime.
Mold's problem is that Labour's taking more definitive stances on some issues is going to take a long time to shift the polls unless Shearer, his MPs or his staff come up with an absolute humdinger to throw at National.
Finding such issues is not easy. And Shearer has precious little time to convince his party he has the renewed vigour, ideas and purpose to make a real difference at next year's election.
Labour's annual conference is little over two months away. Much effort will go into ensuring its agenda or - more to the point - the agenda of those uncompromising delegates hellbent on undertaking kamikaze missions on the party's electoral credibility simply for the sake of political correctness, do not hold sway or equally end up being used as cannon fodder in conference votes by those with more nefarious motives - as occurred at last year's gathering.
Even without such unwelcome distractions, it will be incumbent on Shearer to turn in a stellar performance over that weekend.
Just as he will likewise have to do during the Christchurch East byelection which will immediately follow the conference.
Shearer will paint Labour as the underdog on the basis that National won the party vote in that seat in 2011, that Labour only won the seat because of strong personal votes for Lianne Dalziel, and that many Labour voters have fled the electorate, one of the worst to be affected by the Christchurch earthquakes.
To lose one of Labour's traditional strongholds is unthinkable, however. Moreover, no Government has won an Opposition-held seat in a byelection. Whether Key can break that drought is really academic. Regardless, the result will tell Labour what chance it has of winning next year under Shearer. There will be no prizes for coming second. Only Shearer's scalp. In short, Mold will have her work cut out saving him.