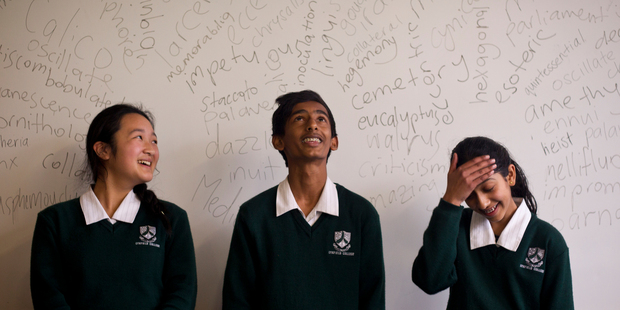 Put a nervous teenager on stage under the gaze of hundreds and ask him or her to spell "pneumatic" for a shot at glory.
The resulting facial expressions, tension and agony have been the catalyst for the once-humble spelling bee being documented in film and beamed to millions of television viewers.
And tomorrow, Aucklanders can see the spectacle up close at a regional final of the NZ Vegemite Spelling Bee, from which winners will go on to the national final in October.
Organiser Janet Lucas started the competition after she and a friend watched the documentary Spellbound, which followed contestants in the national spelling bee in the United States.
"I did it with a friend the first year, and there were spellers who just burst into tears at the end, because they didn't place," she said.
"My friend said, 'I can't do this again, I can't cope'.
"I thought, it's because they care ... It's like any sport: you are selected for the top soccer team or you are not, and all the disappointment that comes with it."
Year 9 and 10 students at more than 100 schools were tested, and 208 went on to five regional spelling bees and were given a list of 200 words to learn.
Tomorrow at the Q Theatre on Queen St, contestants will go through a written test - half the words will be from the word list, half will be new - and will spell one word on stage.
About 20 will progress to the next stage, spelling words - not from the list - on stage.
It is that lonely and public elimination process that is so watchable.
In the US, commentators mutter, as if describing a double-fault in Wimbledon, "she did fall into the trap of adding a silent letter" as a contestant drops out after slowly misspelling "sorites".
Others ask for and mull over a word's definition and language of origin, as though surveying a putting green.
"It is very much like a sport," Mrs Lucas said. "It is incredibly tense and nerve-racking, for the students and parents and teachers, and everyone in the room."
Yesterday, Lynfield College students Rupin Kumar, 13, Isabel Yu, 13, and Elysha Negi, 14, were making final preparations.
All admitted to being nervous, but were content to compete and "see what happens".
They said it was no use stressing about learning too many words beyond the list provided.
"I read a lot, and if I don't know a word I'll look it up," Elysha said. "Then that word will lead to another word ..."
The New Zealand event has been running eight years, and Mrs Lucas, who was awarded the Queen's Service Medal for her efforts, said she hoped it would expand.
Initially the winner was sent to compete in the Scripps US championship, but because of the cost and scheduling issues the winner now receives $5000, and all national finalists have their airfares and accommodation in Wellington paid for.
Mrs Lucas said there were misconceptions about spelling bees.
"Initially, people say, 'Oh, it's just nerds that take part in spelling bees'. They are actually high achievers who are really well rounded and take part in everything."
But that's not to say they aren't smart - one past champion gained a scholarship to Harvard University.
"He had 12 dictionaries," Mrs Lucas recalled, "and he organised a spelling bee when he was at primary school.
"He was phenomenal."

How's your spelling?
1 - Is it:
(a) staccato
(b) staccatto
(c) stacatto
2 - Is it:
(a) chrysalys
(b) chrisalys
(c) chrysalis
3 - Is it:
(a) homanym
(b) homonym
(c) homonim