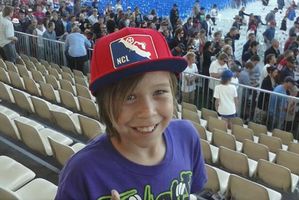 The 11-year-old Westport boy killed in a freak cycling accident died "doing what he loved'', his family said today.
Ford Neil McGrath was cycling with school mates on Peel Street in Westport when he fell at about 3.30pm on Sunday and suffered a fatal injury to his throat.
Police said he was wearing a helmet and was not believed to have been doing "anything remarkable'' when he fell.
A passing motorist, believed to be an off-duty nurse, took Ford to Buller Hospital, but medical staff were unable to save him.
His death has been referred to the Coroner, and the McGrath family are rallying round to mourn the "special'' rugby, basketball, and biking-mad youngster.
A death notice published today paid tribute to the son of Kelly and Shannon, and brother of Paige and Ruby-May.
It said Ford, who was recently named in the Buller under-12 rugby team, "passed away as a result of a tragic accident, doing what he loved''.
"Much loved friend to all his mates and all who knew him,'' it read.
Funeral details are yet to be confirmed.
A family spokesman this morning said the grieving family did not wish to comment at this stage.
Meanwhile, his school friends at St Canice's integrated Catholic school in Westport are coming to terms with the tragedy.
Board of Trustees' chair Michael Casey said Ford was a "normal, well-liked Year 7 boy''.
"We're a small school, a small-sized community and he'll be well missed,'' Mr Casey said.
"It's just one of those things - a straight out tragic accident - every parents' worst nightmare.''
The two boys who were out cycling with him on Sunday are being "looked after and supported''.
A counselling service is available to pupils who need it, and parents are being given advice on how to look after them outside school hours.
"The children are reacting normally to an abnormal event. But in saying that, we need to keep a close eye on them,'' Mr Casey said.
"We've tried to keep as much routine as possible at school. Routine seems to be the best way for coping.
"The teachers are coping well, and keeping the parents up to speed of what's going on.
"Today is day two, and so far so good. We'll work towards whenever the funeral is going to be, and of course, that will be the next step in the process.''
- APNZ