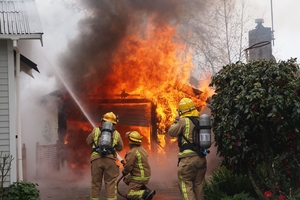 Firefighters saved two Masterton homes from flames with only moments to spare after a blaze engulfed a residential garage yesterday.
Masterton Fire Service station officer Garry Nielsen said a fire crew had been attending an alarm triggered at Wairarapa College about 1pm when a second call was fielded about the garage fire at a property on Cambridge Tce.
Two Masterton fire crews and two volunteer Carterton crews attended. The blaze had blistered paint on the home, blown in a window and ignited wallboards and a wooden window eave that had been exposed to the flames. "There were direct flames coming out the front of the garage and the house - only about 2m away - had caught fire. The fire was only moments from going inside. We got there just in time," Mr Nielsen said.
The flames also threatened a neighbouring home and a car parked at the nearby property.
He said the blaze had erupted while the home owner was at work and the likely cause was sparks from discarded fireplace ashes that had been left in a container in the garage.