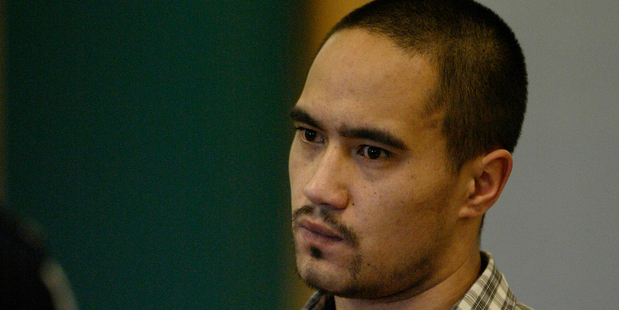 Police are asking residents in the Auckland suburb of Panmure to check their properties for any signs of someone sleeping rough, as they hunt for a toddler's alleged abductor.
Convicted killer Phillip Layton Edwards, 33, is still on the run after allegedly kidnapping 2-year-old Gabriel Donnelly from the child's house in Panmure about 12.45pm yesterday.
The toddler, the son of one of Edwards' friends, was reunited with his mother yesterday.
Last year, Edwards was released from jail amid warnings by the Parole Board that he was prone to violence and suffered serious mental health issues.
He had been serving a nine-year term for the manslaughter of interior designer and former television host David McNee, 55.
When releasing Edwards, the Parole Board said: "The psychologist assessed him as posing a high risk of violent reoffending. The release proposal is that he would have mental-health-supported accommodation.
That will be important to him."
About 7.30 last night, police found Gabriel abandoned in a shed at the back of a Panmure property and reunited him with his mother soon after.
His cries were heard by police conducting door-to-door searches.
Detective Inspector Scott Beard told Radio New Zealand there was no connection between the property and Edwards.
"The child was found cold, but unhurt.''
Edwards was last seen wearing a navy blue jersey, black jeans and white running shoes. Police believe he also had a grey hoodie with him.
"That's not to say he hasn't abandoned his clothes, and we've asked people in the Panmure area to check their properties for any abandoned clothes, or if they've got any sheds where someone could be sleeping rough.
"If they find those clothes or see someone sleeping rough - call the police immediately.''
Mr Beard also had a message for the wanted man, "Phillip Edwards, if you're listening, give yourself up''.
How the incident unfolded
Yesterday's drama unfolded as neighbours heard screams coming from a Coates Cres property.
Pronson Raea, 23, saw a woman lying on the driveway and watched as she got up and walked away.
He believed she had been assaulted. "He [the abductor] must have given her a shove because I looked over and she was rolling on the ground."
Shortly after, Gabriel walked on to the driveway, crying hysterically. "Then the fellah came out, picked up the baby, and he walked off around the corner," Mr Raea said. "The lady came running back and then she must have run to the shop and called police."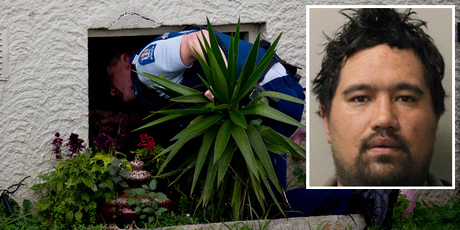 Armed police went door to door in Panmure, searching under houses, in tents and through backyards, while the police helicopter searched from above.
McNee case
He was jailed in 2004 for nine years for manslaughter after Mr McNee picked him up on Karangahape Rd in the central city.
Edwards claimed he had been paid to perform a sex act upon himself, but that Mr McNee had violated a "no touching" agreement, sparking a brutal assault in which Edwards punched him up to 40 times - leaving his victim's bloody body wrapped in bedclothes in his bedroom.
The verdict of manslaughter, instead of murder, disappointed police and outraged the gay community.
The Parole Board set conditions for Edwards' first six months of freedom that included receiving psychological assessment and taking medication.
Almost a year ago, the Herald revealed Edwards had assaulted his girlfriend and been returned to prison.
Phillip Layton Edwards
*Convicted of the manslaughter of David McNee in 2004.
*Released from jail last year, but returned to prison within months after assaulting his girlfriend.
*Allegedly abducted a toddler yesterday. Was still on the run last night.