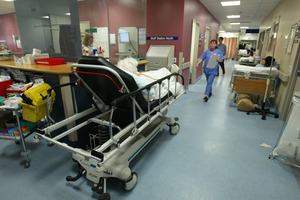 Few hospitals are meeting government benchmarks for emergency department treatment, with many urgent cases not being seen by a doctor within recommended times, according to DHB figures obtained by Labour.
However, Health Minister Tony Ryall said the figures were of limited benefit and public health services were actually providing emergency healthcare faster than ever before.
Labour's health spokeswoman Annette King said she obtained figures under the Official Information Act from each of the country's district health boards which showed that in many regions patients were not being seen within the Government's own recommended timeframes.
They were measured using the Australian Triage Scale which, according to the Ministry of Health's website, assesses patients on arrival to decide how urgent their illness or injury is and how soon treatment is required.
Triage category 1 patients are very urgent, while triage category 5 patients are less urgent. For each triage category there is a specified maximum clinically appropriate time within which medical assessment and treatment should commence.
Mrs King said that in some instances, less than half the target numbers of triage 2 and 3 patients were being seen within recommended timeframes.
"That's thousands of patients with potentially serious health issues having to wait longer than they should,'' she said.
"In the case of triage 2 patients - those with serious head injury, moderately severe trauma and suspected heart attacks - it is expected 80 per cent should be seen within 10 minutes.
"In the 12 months to May this year, 10 district health boards did not meet that benchmark, with Hutt Valley and Waikato DHBs and Rotorua Hospital falling well outside the acceptable time, at 38 per cent, 46.14 per cent and 48 per cent respectively.''
However, Mr Ryall said the Australian Triage Scale measured how long it took for a doctor or nurse to decide which category patients were in and then enter it into the computer.
"That's not measuring the right thing, which is how long you wait to get treated,'' he said.
Nationally, 94 per cent of patients were admitted, discharged or transferred from EDs within six hours, an increase of nearly 30 per cent compared to 2008, Mr Ryall said.
"This National-led Government has made shorter stays in EDs a priority. It's only five years ago that newspapers were full of stories about patients waiting days on end in ED corridors - that doesn't happen now.
"The Government has invested an average $500 million a year extra into protecting and growing the public health service.''